Time and date
CONSTRUCTION DIRECTORY
Composite Flat Roofing Ltd

Contact Details
Address
Unit 2 147 Elliot Road
Plymouth
Devon
PL4 0QS
England UK
About Composite Flat Roofing Ltd
Composite flat roofing strives for customer satisfaction on each and every project, no matter how small or large. Customer focus and exceptional standards are priority number one...
ANY COLOUR FINISH
With RAL colour charts, colour possibilities are endless. Tell us what you want and ​​​Composite flat roofing will do the hard work 100%.
Composite flat roofing Service at GREAT prices. We guarantee to price match or beat any leading GRP Fibreglass companies available in the United kingdom.
FINANCE AVAILABLE (Subject to status)
FREE 10 YEAR INSURANCE BACKED GUARANTEE
FREE SITE SURVEYS
FREE CHOICE OF LLEWELLYN RYLAND COLOURS
​YOU'RE PROTECTED WITH OUR FREE DEPOSIT AND GUARANTEE INSURANCE FOR 10 YEARS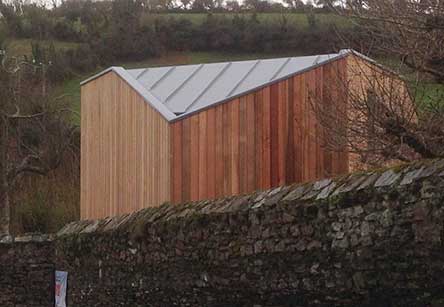 Leaking roofs can be very costly and cause expensive damage to your home if ignored.
Basic felt roof coverings do well to resist the poor UK weather for up to 10 years, but our high quality fibre glass systems provide up to a minimum 25 years peace of mind PROTECTING YOUR HOME, saving you money in the long run.
Composite flat roofing provide a moulded, seamless roof, effectively preventing leaks whatever the weather.
450x2 gcsm reinforcement fibreglass for all general applications​ on our flat roofs such as:
garage roof tops
bay windows
kitchen extensions
box guttering
600x2 gcsm on heavy foot traffic areas such as:
450x2 gcsm for additional services:
swimming pools & garden ponds
Simulated G.R.P. Lead flashing
garden sheds
summer houses
and many more possibility's are endless
THE best value for money.
Here at​​​ COMPOSITE FLAT ROOFING we don't just remove your old covering and expect perfectly sound, strong, existing timber to be in place.
As with any job expect the unexpected. We can guarantee none of our highly trained installers will over lay on poor conditions such as swollen, damaged or rotten timber.
We offer timber replacement to all of our customers, domestic or commercial.
NEED NEW REPLACEMENT UPVC FASCIAS OR GUTTERING?
COMPOSITE FLAT ROOFING offer a complete package when it comes to replacing your flat roof. ​​​​​​​
This includes any plastics you the customer wish to have replaced, o​​​​​r ​​maybe just cleaned. Our highly trained installers will give an honest opinion and FREE ADVICE to save you money wherever we can. ​​
COMPOSITE FLAT ROOFING will ensure you are 100% HAPPY with your new roof.
Reviews & Testimonials for Composite Flat Roofing Ltd

April 24, 2014
Darren and his team were fantastic from the start. Prompt with a quote and as prompt as the weather would allow him to be to begin work. Not only did they do a great job, but they were very considerate when carrying it out, minimising the obvious mess that work like this entails. We can highly recommend Composite Flat Roofing Ltd to anyone requiring a professional finish - Darren is a perfectionist.

April 18, 2014
Cheers, Matt Testimonial: Composite Flat Roofing replaced our garage roof and did an excellent job. We are very pleased with the result and the team was very professional in all aspects of estimation, construction and communication. Matt and Jess

April 18, 2014
We have had a leaky kitchen roof now for some quite some time, the felt was rotten over the bathroom. the guys came around today and completed this wonderful master piece. I am very happy with the work and cleanliness, definitely recommend them.

January 19, 2014
New year lots of bad weather.. Called composite flat roofing, got a friendly welcome and a site survey on the day. By 6pm I had a full quote and explanation of what needed to be done. A week later we have a lovely new roof, no leaking and all at a reasonable price. My partner and I are very happy with the exceptional service we received and will be in contact shortly for further work.

January 15, 2014
We asked for a balcony to be reroofed, we chose Composite because they were effiient with their quotation as well as being competitive. Darren and his team arrived at the time they said they would, completing the work in a very professional manner and cleaned up after they had finished. I would be happy to reccomend Composite flat roofing to others and will use them again in the future if the need arises. Useful? (1) Dane Vanstone - Kingsbridge

January 15, 2014
I could not be happier with the results of my flat roof refurbishment. Composite Flat Roofing Ltd. Were courteous to us as a family while the work was taking place and the quality of the overall work was impeccable. They cleaned up, were quick, professional and reasonably priced. Not the cheapest quote we had but I could not be happier with the outcome. Thanks again. CD Prince - Plymouth

January 15, 2014
Composite Flat Roofing provided a fibreglass flat roof, pitched roof and balcony to a complicated 7 sided structure incorporating a studio over a garage. The most difficult part was the parapet going all round the building. As an architect with over 30 years experience, I was surprised how well the work was carried out. Darren even modified the standard capping so as to reduce its depth in order to improve the appearance. Nothing was too much trouble; a pleasure to work with. Robert Woffenden - Millbrook

January 15, 2014
On behalf of my neighbour I arranged for Composite flat roofing Ltd to estimate a new porchway fibreglass roof, the estimate and contract paper work was delivered the same day and a date arranged and agreed. Very please with the result and the team left with no mess. Highly reccommend this company in the future Many thanks.

January 15, 2014
My flat roof leaked on new years day, he came out and quoted to do it. I had the quote within an hour and everyyhing we discussed was in writing. He left the kitchen and garden spotless and most importantly did an amazing job to our roof. Dealing with Darren is a breath of fresh air infact we are trying to find other jobs for him to do as well. I have recommended him to severall people already. Useful? Jon Mcquade - Plymouth

December 18, 2013
Katie Stanbury Composite Flat Roofing did a fantastic job of the flat roof on our newly built shed, we are really pleased with it. Darren has a really professional manner and his workmanship is second to none, highly recommended.

December 18, 2013
Outstanding work. Great finish and attention to detail. Staff polite and hard working. Great price too.

November 02, 2013
Composite Flat Roofing replaced the flat roof over our bathroom and did an excellent job. The area was left spotless and we are so pleased we have arranged to have our kitchen roof replaced also. We look forward to having another perfect result. Composite Flat Roofing is perfection personified

September 16, 2013
Hi Many thanks for your outstanding work on the Flat Roof at 16 Courtney Road. Jane and I were impressed with your prompt response to our original call, the professional manner in which the work was undertaken, including working to 2200 to make best use of the dry weather, and the quality of the finish which is better than we expected. Best Regards Rick Warr

March 15, 2013
Composite Flat Roofing installed a 10m2 Fibreglass roof onto a property for us and we where very pleased with the roof it was finished to a very high standard and they used top quality materials.They arrived on time and cleaned up any mess and what more can i say but 5 star service.
Review by
Spencer Kingdom

January 10, 2013
Replaced my flat roof ,Good job ,no hassle, stuck to original quote given to me .But im glad to to say I wont be seeing him again for another 20 years or more. But it was nice to meet a competent team. Over the moon.No more leaky garage thank you
Composite Flat Roofing Ltd.

5

out of

5

based on

15

ratings.
Composite Flat Roofing Ltd Serves The Following Areas