Time and date
CONSTRUCTION DIRECTORY
Airsculpt Limited

Contact Details
Address
110 Liscombe
Birtch Hill
Bracknell
Berkshire
RG12 7DE
England UK
About Airsculpt Limited
Please Mention Construction.co.uk

Welcome to Airsculpt – Designers and architects of tensile fabric structures
Airsculpt Limited has over 30-years experience in the design, engineering and construction of fabric architecture. Our expertise covers products such as state of art tensile membrane architectural structures for the construction industry, stretched ceilings and sculptured acoustic solutions for interior designers, through to inflatable exhibition structures and artistic installations for event and marketing professionals.
We are experts in fabric architecture.
With renowned in-house designers and structural engineers, including a dedicated European manufacturing facility specialising in fabric engineering, tensile membrane architecture, acoustic materials, aeronautical (aerostat) production as well as metal fabrication; our understanding of fabric architecture is only surpassed by our passion for exceptional customer services and cost effective, innovative solutions.
---
Commercial Awnings canopies & gazebos
Airsculpt has been building and installing commercial awnings, canopies , umbrellas, walkways and fabric gazebos for Bars, Hotels, Pubs and Restaurants for over 15-years. Our engineers are able to build and install specifically towards the clients' individual needs; giving our customers the options to request particular trussing, fabrics, colours, design and branding options. Our awning and commercial umbrella styles and options include wall mounted folding arm , fabric roof terrace awnings, conservatory awnings, as well as butterfly folding umbrella systems. All are built to meet EU building regulations and surpass all appropriate commercial health & safety remits.
Our tensile fabric canopy, walkway and gazebo range offers both flexibility and design flair. With a myriad of design potentials and frame materials on offer, we are able to provide a bespoke design and engineering service second to none.
---
Membrane Structures
Airsculpt's membrane steel and aluminium framed structures offer incredible flexibility and cost savings. With ridged frame engineering, wrapped with quality fabric membrane, 100% of the interiors space can be utilised; making them ideal for Sports Halls, Recreational Facilities, Storage Facilities, Riding Arenas, Warehousing or Agricultural Buildings.
Capable of spanning large areas our buildings incorporate structural steel beams instead of open web trusses. This relatively new design concept provides a high level of flexibility, offering a wider range of applications and functionality.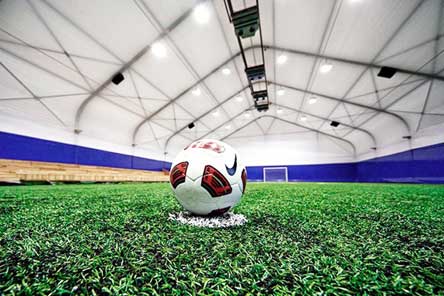 ---
Internal Sails, Shades and Blinds
Airsculpts' stretched or static fabric internal sail shades and blinds provide fantastic visual impact, protection and design status. With over 20 colours of fabrics available, we can provide a range of standard shapes and sizes, or designs to your own individual pattern; providing you with a completely unique and personalised solution. Our use of quality stretched fabrics with superior embedded weaving means we are able to offer some truly amazing designs, mirrored with an excellent lifespan.
Available to both commercial and residential customers alike, our engineering and passion for quality ensures we provide the best and most cost effective stretched fabric sail shades and blinds on the market.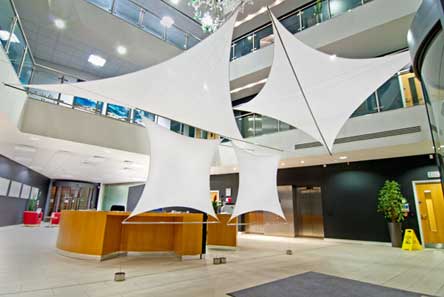 ---
Stretch Ceiling
Airsculpt's Interior division provides a professional and renowned design, engineering and installation service for stretched ceilings, stretched wall coverings, suspended ceilings and bespoke architectural interiors.
Professional Service, Quality & Cost Efficiency.
Our proficiency and expertise in design and engineering means we are able to create stunning architectural design features that enhance building interiors.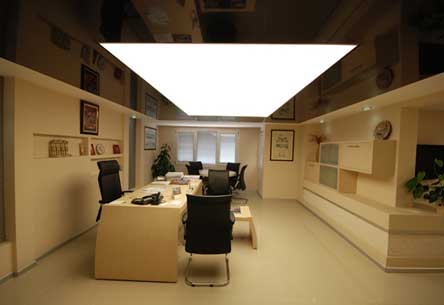 ---
Introducing Sails, Shades and Blinds - Designer Lifestyle Shading
Bespoke designer shade sails, conservatory sails and shading, garden sails, shade for garden, sun sails and indoor shade sails engineered to UK building codes.
Airsculpt Limited Serves The Following Areas