Time and date
CONSTRUCTION DIRECTORY
Address
Mansfield Office, 15 - 16 Oakwood Road
Oak Tree Business Park
Mansfield
Nottinghamshire
NG18 3HQ
England UK
About Banbury
Elasticoat Architectural Mouldings
Elasticoat features a range of architectural mouldings which can be manufactured in almost any profile or shape; being a unique textured-effect product that solves the weight issues of traditional cast-stone, whilst allowing the designer complete flexibility.
Using the latest computerised technology Banbury cuts high density EPS and coats it with a unique flexible and impact resistant finish. If it can be drawn and detailed, we can make it.
Banbury are also widely used in the industry to 'freshen up' the appearance of a lifeless building, creating renewed interest and demand which is associated with a more expensive building.

Renovation Work
Many of the skills of the Edwardian craftsman are no longer available to make the decorative features on buildings anymore. Even if they were to achieve a general approximation of the look, the cost would have been prohibitive and it would take more time than was available.
No specialist lifting equipment is required. This offers huge benefits on site where space or access may be restricted as well as saving costly hire charges for equipment. Elasticoat can now be used where previously weight restrictions eliminated such features unfolding countless design opportunities.
Elasticoat has brought stone into the 21st Century. Now let Banbury bring your next building project there as well.
Commercial Work
Elasticoat has been used for many years to add stunning architectural features to commercial developments around the world. Stone has long been the representation of quality and stability with prestige developments. Individual retail outlooks or office buildings can all benefit from Elasticoats unique ability to create custom profiles.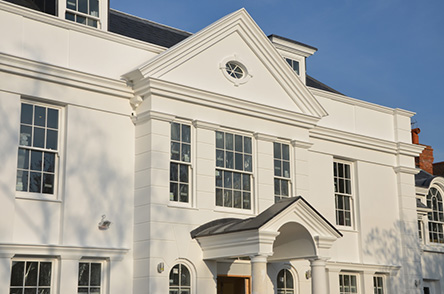 Residential Work
So if your home needs a little something to lift its look, or an entire project that requires a wow factor contact Banbury now to find out just how easy it is to make stunning architecture a reality.
The result is a high value appearance previously only available on selected properties at huge cost.
Banbury Serves The Following Areas