Time and date
CONSTRUCTION DIRECTORY
HC Courts Tennis Court Maintenance UK Ltd

Contact Details
Contact
Adrian Chamberlain
Address
13 Knossington Road
Braunston in Rutland Braunston
Oakham
LE15 8QX
England UK
About HC Courts Tennis Court Maintenance UK Ltd
Tennis Court Cleaning
Please mention Construction.co.uk when making an enquiry
With over 20 years' experience, HC Courts has been offering high-quality tennis court maintenance that includes all aspects of resurfacing, fencing and tennis-court painting, too.
With continued use and weathering, tennis court maintenance is something you need to take care of to prevent loss of grip and to keep your surface looking and performing like new. Regular tennis-court cleaning is one way to keep your court in top condition, and can include thorough surface cleans that remove dirt, debris and any build up of moss or algae.

Our fully trained tennis-court cleaning teams have looked after courts for tennis clubs, schools and private individuals, and our two stage tennis-court cleaning includes both mechanical surface treatment and a high-pressure power wash.
Tennis-court maintenance
Tennis-court cleaning
Tennis-court repairs
Tennis-court lining
Tennis-court painting
Tennis-court colour coating
Tennis-court resurfacing
Tennis-court fencing

Playground cleaning
Netball courts
Basketball courts
Multiple-use games areas
Artificial cricket wickets
Synthetic sports pitches
Tarmac-court cleaning
En tout cas court cleaning
Even tennis-court cleaning has its limitations, however, and cannot restore a badly worn court to its former glory in the same way as our resurfacing or tennis-court painting packages. Using the latest techniques and materials, we offer tennis-court painting using non-slip paint that will improve your game and add many years to the life-cycle of your court. Our dedicated tennis-court painting team always take great pride in their work and hand-spray the chosen colours for the most accurate and meticulous finish.
Professional Tennis Court Cleaning
Our tennis-court cleaning services include the cleaning of tennis courts for schools, universities, tennis clubs, local authorities and private individuals. Cleaning and restoring is the core business of HC Courts. With over 20 years' experience in the field, and a client list consisting of independent and state schools, local authorities and numerous clubs, you can be sure that your court is in the best of hands.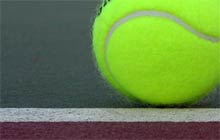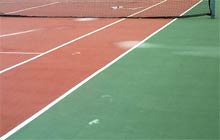 Deep Tennis Court Cleaning Brings It Back To Life
The cleaning of your tennis court is carried out by fully trained and highly experienced operatives, who will inspect the court thoroughly for damage or any potential faults, before commencing.
The court is initially treated with a rotating wash system to loosen all debris, to ensure a deep clean, before being power washed at 3500 psi to ensure a spotless finish. This process, although labour intensive, ensures the best possible cleaning, and prepares the court for play or colour coating.
Weed killing should not be overlooked on your tennis courts: moss and weeds growing on sports areas of any type present a hazard to safety, as well as removing some of the enjoyment of the game. HC courts are professional specialist applicators of weed killers and moss treatments, making sure that all year round the court is safe to use and stays weed and moss free.
In addition to tennis-court cleaning, HC Courts can provide a binder finish, using a two-pack polyurethane resin to ensure a long lasting result.

Gallery
Click to close
Products & Services
RESURFICING SPECIALIST
MUGA COURTS SPECIALIST
TENNIS COURT MAINTENENCE
SPORTS SURFACE MAINTENENCE
FOOTBALL PITCHES
HOCKEY PITCHES
SYNTHETIC PITCHES
HC Courts Tennis Court Maintenance UK Ltd Serves The Following Areas
Find HC Courts Tennis Court Maintenance UK Ltd in