Time and date
CONSTRUCTION DIRECTORY
CCL Wetrooms

Contact Details
Address
Lodge Farm, Hook Road
North Warnborough
Hook
Hampshire
RG29 1HA
England UK
About CCL Wetrooms
CCL Wetrooms are the UK's leading wet-room specialist. We have extensive experience in supplying, manufacturing & installing wet-room solutions for all sizes of wetroom projects. Our market leading range of innovative drainage and waterproofing products have been designed to create stylish contemporary wet rooms that are backed up by our unique lifetime guarantee.
As a manufacturer of wet-room systems and waterproofing membranes, we are passionate about providing wet-room solutions to architects, interior designers and the building trade that overcome the challenges presented by today's modern floor structures.
We have nearly 30 years' experience as wet room suppliers in the UK, designing, manufacturing and installing superior wet-room drainage systems for both commercial and residential projects in London and the South East.
Products
Our wet room products are suitable for timber and solid floors and we ensure the very best quality materials and waterproofing solutions to maximise their performance and longevity.
Timber Floors
Our wet-room drains for timber floors have all been developed using the latest concepts in wet-room technology. Each product consists of key design features that have been tailored to the unique specifications of timber floors. Our most popular system for timber floors is the Modular Wet-Floor System, a unique concept that allows any size or shape of wetroom to be configured simply, using three components: a drainage component, tapered board (s) and a wall or floor grill. It allows a stunning linear grill to be situated in almost any position within the shower area, including along the length of the long shower wall.


Solid Floors
Our wet room drains for concrete floors have been specifically designed with contemporary construction methods in mind. Using unique design features, we have manufactured highly-advanced drainage systems that are not only stylish but highly functional. Our market-leading BBA approved Linear Screed Drain with Lo-Seal waterless trap, is the shallowest trap available on the market at a total height of only 55 mm.


Waterproofing
Our wet-room tanking systems vary in design and product features, but they are all expertly manufactured to ensure highly-effective waterproofing for wet rooms on timber and solid floors. Our waterproofing solutions are tailored to meet these specific requirements.
Wet Room Design Services
As experienced wet-room manufacturers committed to providing the best-quality service to our customers, CCL Wetrooms offers a comprehensive professional wet-room design and specification service for architects, designers and the building trade. The comprehensive wet-room design service is tailored to your project and encompasses all stages of the build, from the initial planning stage, right through to design, wet-room manufacture and on-site support. It also includes the following:
Project design, advice and guidance
Technical drawings and specification
On-site training and support
Bespoke wet room design and manufacture service
Wet room Design & Specification CPD's for Architects
Wet Room CPD
CCL Wetrooms are delighted to be able to offer a free Wet Room Design and Specification CPD presentation to architect practices across London and the South East. The wet room CPD can be booked throughout the year to best suit your practice and is presented by a senior member of our wet room team at your offices. Drop us an email at cpd@ccl-wetrooms.co.uk to book your CPD today.
Wet Room Installation Service
A fully guaranteed wet room installation service can be hard to find. Our extensive experience as wet room specialists has shown us that some customers desire the peace of mind of having a complete wet-room supply and installation service from the manufacturer. Our sister company Wetrooms UK are able to provide a full installation service with a 10 year installation guarantee for full peace of mind that your wetroom will remain watertight.
Commercial Wet Rooms
As leading wet-room specialists, we supply and install wet rooms for a number of high profile clients, and have strong partnerships with companies such as Octagon, Berkeley Homes and Barratt Homes. By choosing us to supply your wetroom, you can guarantee an innovative range of premium-quality products and industry-leading drainage solutions that are expertly tailored to meet your project and specifications.
Our Services to you
Wetroom Solutions for Solid and Timber Floors
Market Leading Wetroom Drainage & Waterproofing Products
In-house Grill Manufacturing Service
FastTrack Bespoke Grill Manufacturing Service in 3-4 days
30 Years Experience
Gallery
Click to close
News
03/05/2019
Benefits of Underfloor Heating in a Wetroom
---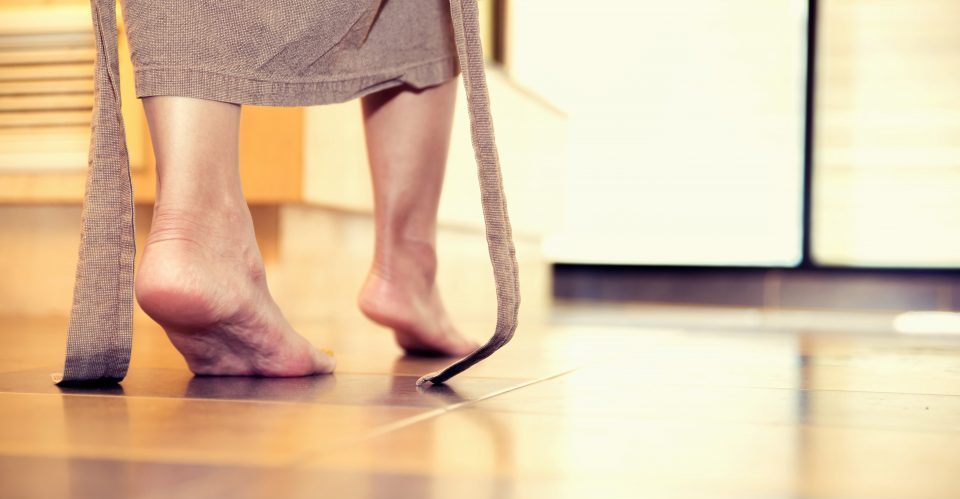 Nothing spoils the cosy feeling of your favourite dressing gown like having to dance across ice-cold bathroom tiles. In the winter months, our bathrooms quickly become the coldest room in the house.
The most common form of heating in a bathroom is a heated towel rail. Whilst great at heating towels, it doesn't do a great job of heating the rest of the room. Convected heat from a towel rail is all too easily pulled away by the bathroom's extraction fan before it can effectively warm the place up. But what if there was another way to warm your bathroom?
A way that starts by warming those ice-cold bathroom tiles…
Bathroom Electric Underfloor Heating
Underfloor heating comes in two main forms; electric systems and water systems. Water systems are similar to classic radiator systems. As such, they require some element of plumbing knowledge. Electric underfloor heating on the other hand, is the simplest and most efficient way to gently heat any room and any floor finish throughout your home.
Heat emits from a wire and spreads throughout the layers of your wetroom flooring just underneath the surface. This produces a very gentle uniform heating effect that warms the room from chilly bathroom tiles, all the way up to the ceiling.
When installed within a wetroom, electric underfloor heating is a cost-efficient heating solution that doesn't impact upon the layout, design or style of the build in the way a traditional radiator would.
Can Electric Underfloor Heating be installed in a Wetroom?
Electric underfloor heating can easily be installed in wetrooms. Our installation partners, ThermoSphere, recommend an earthed IP68 rated system for total flexibility and safety.
An electric underfloor heating system can be easily integrated into the construction of a wetroom without compromising the tanking process. Having installed the drainage elements within the wetroom, electric underfloor heating is then laid on top of the waterproof membrane prior to the installation of the adhesive and floor tiles. This means your wetroom will benefit from the addition of underfloor heating whilst the tanking process will ensure the wetroom remains watertight for the life of the tiles.
For the ultimate feel good factor, the heating system can even be installed behind the shower wall tiles to provide an immersive shower experience!
If you're considering electric underfloor heating in your wetroom, we recommend that you don't go above 150 watts or 30°c per square metre. You'll also need to ensure that the drainage trap doesn't dry out by installing the underfloor heating at least 300mm away from the wetroom drain.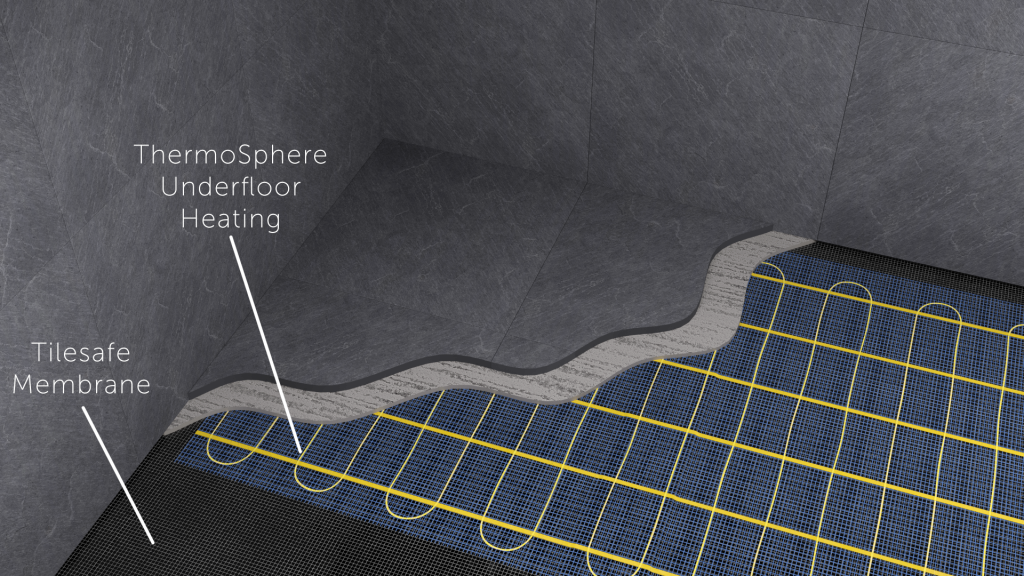 The Benefits of Underfloor Heating in a Wetroom
One of the key benefits of electric underfloor heating is its efficiency. Unlike water-based underfloor heating and convectional heating, homeowners don't need to leave electric underfloor heating on for long periods of time for it to provide warmth. Responsive on demand, it will heat up quickly when needed and turn off when not in use.
This plays into two homeowner concerns simultaneously. The rising cost of energy bills is a perennial concern to homeowners, but more recently, homeowners are also looking for ways to help combat climate change. Electric underfloor heating addresses both of these issues, since it is both cost effective and energy efficient.
In fact, it costs less than the average takeaway coffee to run ThermoSphere electric underfloor heating in a 2m
2
bathroom for a month!
Other benefits include….


Beautifully comfortable underfoot: Need we say more?


Gentle heat: Unlike radiators, the heat emitted from underfloor heating systems is done so gently and consistently throughout the room. There are no cold spots and the surface never gets too hot to walk on.


Maintenance free: Correctly installed underfloor heating does not involve any regular maintenance costs


Energy efficiency: An electric heating element is 100% efficient at the point of use, meaning every watt of electricity is converted into heat energy.


Design flexibility: Installing underfloor heating does not affect the layout or overall design of a wet room and removes the need to install a radiator onto the walls.


Dries a wetroom floor: The even heat of an underfloor system helps dry a wetroom floor whilst providing a warm comfortable surface to walk on after s
Products & Services
Architectural Wetrooms
Wetroom Design Services
Twitter Feed

Facebook Feed
CCL Wetrooms Serves The Following Areas