Time and date
CONSTRUCTION DIRECTORY
Goalcroft First (Holdings) Ltd

Contact Details
Address
Unit 10, Centurion Industrial Estate
Centurion Way, Farington
Leyland
Preston
PR25 4GU
England
About Goalcroft First (Holdings) Ltd
Tel: 01772 453470
Bespoke boiler headers, pump headers, low-loss headers and stool pieces suppliers for all the UK including Scotland & Northern Ireland.
We have worked with most major contractors in the heating and ventilation industry and have developed methods to eliminate the need for welding to be done on site - either by fabricating to dimension drawings or by the site measurements after the major plant has been positioned.
We are specialists as pump header manufacturers and installers for plant rooms.
We also supply bespoke boiler headers, pump headers, low-loss headers and stool pieces. We can fabricate welded or screwed 3 port valve sets.
All our welders are qualified to ESTTL class 2 or BS EN 287-1:1992 class 1.
If you would like to see some examples of our work then call into our workshop in Leyland or alternatively take a look at the pictures in our gallery page.
Our 4500 square foot workshop located in Leyland is equipped with a fume extractor system over 5 permanent welding bays. Each bay is equipped with 415, 240 and 110 volt electricity sockets. We have a 200mm diameter capacity band saw. Larger diameters of tube are cut with Hancock oxy-acetylene.
We have facilities for threading up to 100mm diameter tube and roller grooving up to 300mm diameter tube.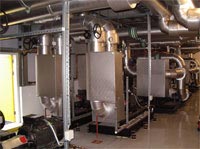 Gallery
Click to close
Products & Services
Pre fabricated pipework
Off site fabrication
Threaded pipework
Carbon steel pipework
stainless steel pipework
Mig welding
Tig welding
General fabrication
Low loss headers
class 2 pipe welding
class 1 pipe welding
coded pipewelding
welded pipework
Gas pipework
Pipe Welding
Fabricated Pipework
Goalcroft First (Holdings) Ltd Serves The Following Areas
Find Goalcroft First (Holdings) Ltd in
Goalcroft First (Holdings) Ltd Branches
Roscow Mechanical Ltd.
Unit 10, Centurion Industrial Estate, Centurion Way, Farington, Leyland, PR25 4GU
Click to view telephone number