Time and date
CONSTRUCTION DIRECTORY
Ozgoods Locksmiths

Contact Details
Address
59 Eversfield Road
Horsham
West Sussex
RH135JS
England
About Ozgoods Locksmiths
Day or night - Ozgoods Mobile Locksmiths is here to help you in Horsham and the surrounding areas! We're just a call away, whether it's to open a locked door or a lost key at your home, work, or vehicle (including motorcycle) or Boarding up from a burglary, or to develop a complete security plan for your property - we are here to help!!
"No call out charge"


Residential door opening
Office or factory door opening
Residential lock replacement
Business premises lock replacement
Residential key cutting
Commercial key cutting
On-site key cutting
Broken keys in lock
Lost keys and missing keys
Broken locks and locked out
Boarding up of houses, flats and residential properties
Boarding up of commercial and business premises
Burglary repairs
Security surveys
Vehicles opening
Vehicle key replacement
Motorcycle keys specialist
About Us
Ozgoods Locksmiths is a small family run business and have a long-standing reputation as a reliable service with experience in all aspects of locksmith work. Our specialised team undertakes work not only at its premises in Horsham but also where you need us.
By keeping our overheads low we are able to pass the savings on to you, the customer. We always keep you informed of the latest developments, installing the most advanced locking and security systems so as to provide our customers with state-of-the-art solutions.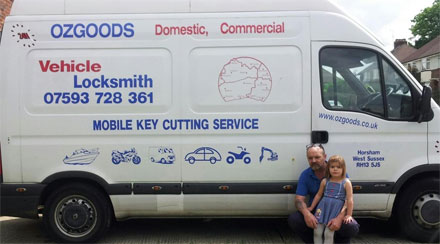 Emergencies
Ozgoods Locksmiths mobile service will open a locked house, flat or car door promptly, reliably and at a very competitive price. And we always use non-destructive methods ensuring that any incidental damage is kept to a minimum.
Locksmith
We'll cut your keys quickly and accurately on-site. Our specialist cutters are famed for their precision and accuracy. We won't need to return for an adjustment if we cut your keys.
Security advice
Here at Ozgoods Locksmiths we are happy to provide practical advice on securing your home. With years of experience we are quick to spot weaknesses and can offer simple solutions to make your home safer.
Vehicle service
Our trained locksmith has hundreds of pounds worth of manuals explaining in detail how to open a car door lock, and tools specifically designed for each make and model of vehicle, so he can open a car door like GM, Ford or Chrysler-Dodge, or foreign like Toyota, Acura, Subaru, BMW, Mercedes, Volvo and others.
Motorcycle service
We know how hard it is to find a locksmith that does motorcycles so we will cover London and beyond (Additional prices for out of area).
Ozgoods Locksmiths Serves The Following Areas
Find Ozgoods Locksmiths in