Time and date
CONSTRUCTION DIRECTORY
Artisan Loft Ladders

Contact Details
Address
272 Goffs Lane
Waltham Cross
Hertfordshire
EN75QE
England Uk
About Artisan Loft Ladders
"10% Discount on Package Deals"Safe Access to Your Loft/Attic
LOFT LADDER INSTALLATIONS, LOFT ACCESS & HATCHES, LOFT INSULATION SERVICES, LOFT BOARDING & LIGHTING SERVICES. NORTH LONDON, HERTFORDSHIRE / HERTS, PARTS OF EAST LONDON & WEST ESSEX UK. Please contact with post code to see if I cover your area.
At Artisan Loft Ladders we can offer loft ladder installations, loft insulation services and professional advice for loft access problems, domestic or commercial for the Hertfordshire, Essex and North London areas of the UK. If you want to create more storage space, or even a study/office/personal space, Artisan Loft Ladders has the solution.
We can offer ladders (or spacesaver staircases) from all the leading manufacturers, including the revolutionary Telesteps. Floor boarding, Velux windows and lighting are offered to create your own personal package of optional extras for your loft ladder installations or loft insulation services.
Hatches can be enlarged or moved to a more convenient site for ease of loft access. If you have a glass loft hatch door, this presents a problem for loft access if you want to keep it. It may be possible to keep the existing glass hatch door and have a modified loft ladder that can operate with the glass hatch still in place. Only after a survey can we say if the loft ladder can be fitted in this situation.
Phone or email to enquire if your postcode is covered for a free survey. Artisan Loft Ladders are based on the borders of Hertfordshire and North London/Enfield, near to the M25 junction 25, covering Herts, North London, North West London, Luton, Tring, parts of East London & West Essex.
As well as loft ladder installations, we can now clear rubbish, clean, insulate, board the floor, offer loft insulation services for insulating the roof with airtec double silver foil insulation, and then plasterboard the roofing beams. This would particularly suit older type houses that were built without roofing felt, or houses where the felt is damaged beyond repair.
Loft Ladders Installations | Loft Access | Loft Insulation Services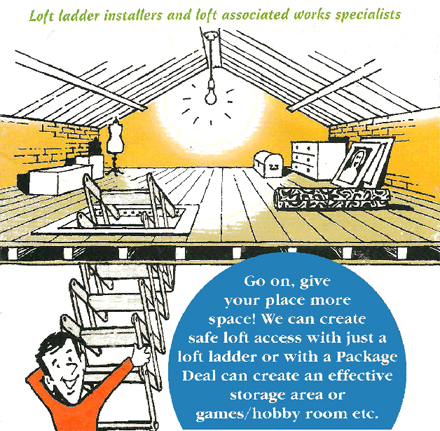 Artisan Loft Ladders Serves The Following Areas