Time and date
CONSTRUCTION DIRECTORY
Intec Project Solutions Ltd

Contact Details
Address
The Rosary
Longdon
Tewkesbury
Gloucestershire
GL20 6AS
About Intec Project Solutions Ltd
Specialist Construction Services
Intec Project Solutions Ltd can help you with the most appropriate approach to your construction project and its foundations.
Thinking of building a bespoke home? Intec Project Solutions can help you design and build the perfect foundations. As Chartered Civil Engineers we are experts in the construction industry, and our specialist skills are invaluable when planning your project.
Why choose Intec Project Solutions Ltd?
Chartered Civil Engineers
Expert knowledge
Specialist skills
Innovative new technology
Personalised service
Complete project management
Our specialist skills and innovative technology can also lay the perfect foundations to build upon. Our expert team offer a complete management project, so from the initial consultation to completion, you can be assured an honest and professional service.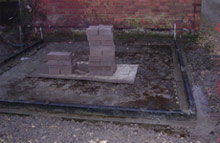 Construction services we provide:
Preparation of plans
Structural calculations
Ground investigations and land survey
Ground and land levelling
Design and construction of foundations
Design and construction of earth retaining walls
Create your dream home today
We specialise in low rise constructions and domestic buildings. So whether you are thinking of building a bespoke home, or extending your existing one, Intec Project Solutions Ltd can take care of it.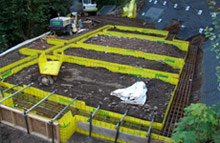 Pioneers in Foundation Technology
Intec Project Solutions Ltd use revolutionary new eco-friendly foundation materials.
Intec Project Solutions Ltd are approved suppliers and installers of the innovative TecFoundTM foundation system (UK patent pending GB 1106258.5). We also supply and install the TECHNOpor® glass foam granulate ground floor and foundation insulation material.
TecFound
TecFound is a fully engineered system and provides an alternative cost effective and quickly formed foundation system in particular to lightly loaded structures i.e. conservatories, garages, house extensions etc.
TecFound utilises easily installed foundation piles at the load points of the structure or building to be supported to carry the foundation loads to suitable bearing strata below with specifically designed and fabricated double corrosion protected steel beams between to support the structure.
Intec Project Solutions Ltd Serves The Following Areas