Time and date
CONSTRUCTION DIRECTORY
Grosvenor Stone

Contact Details
Address
Golborne Bridge Farm
Whitchurch Road
Chester
Cheshire
CH3 9DR
England
About Grosvenor Stone
Specialist manufacturers of composite and natural stone products for Homes and Gardens, manufacturers of high quality architectural, decorative and bespoke reconstituted and natural stone products for restoration, landscaping and garden projects.
With an extensive products range now available direct to your door or through a select number of retailers (garden products only), if you would like to receive our free c.d brochure or your nearest stockists details for garden products or would just like a quotation for standard or bespoke landscaping and architectural products please contact us
Architectural


Cills & Headers
Window & Door surrounds
Corbels
Quoins & Brackets
Plinth & String course
Columns & Pilasters
Hinge & Jamb blocks
Fireplaces
House signs
Architectural miscellania
Colour finishes
Bespoke products
Online Store

Landscaping


Ball Finials & Pier caps
Coping Stones Gate piers and gateposts
Obelisk & Celtic cross
Feature stones
Cobbles & Rockery stone
Natural & Composite walling
Natural stone paving
Landscaping troughs
Colour finishes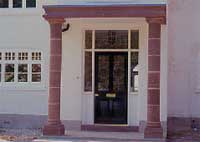 Although our standard range of composite stone products is in excess of 500 products now, a large percentage of our work is for bespoke products where there is a need to reproduce architectural stonework or to create a new design.
We pride ourselves in this service and are able to offer the most competitive price for bespoke products, we have our own in house sculptural and pattern shop which enables us to offer you the best possible quotation, as well as a wealth of knowledge and experience in this field.
Grosvenor Stone Serves The Following Areas