Time and date
CONSTRUCTION DIRECTORY
Heat Trace Limited (Trace Heating Specialists)

Contact Details
Address
Mere's Edge
Chester Road
Cheshire
WA6 0DJ
England
About Heat Trace Limited (Trace Heating Specialists)
Heat Trace Limited (HTL) is an innovative British manufacturer of electric heat tracing cables and associated equipment. HTL are considered to be the technological leader in heat tracing systems. With three UK manufacturing plants and with representation in over 50 countries, HTL can provide a comprehensive range of self-regulating and constant power output heating cables. HTL is an ISO 9001:2015 accredited company. We offer full turnkey project capability, specialising in the Manufacture, Design, Supply, Installation, Commissioning & Maintenance of Electric Heat Tracing Systems.
Heat Trace Limited's products are approved and certified for use in hazardous areas according to international standards including ATEX, IECEx, CSA, FM, EAC (Russian Customs Union), CNEX (China), DNV-GL (offshore) and Japanese.
Our comprehensive range of trace heating cables means we can meet all trace heating requirements. With an emphasis on technological innovation, our cables offer the longest circuit lengths; the highest power outputs and the highest withstand temperatures available on the market.
Our Products:
• Self-Regulating Heating Cables
• Constant Wattage Heating Cables
• Series Resistance Heating Cables
Applications:
Frost Protection
Roof and Gutter De-icing
Snow and Ice Prevention
Long Distance Pipe Lines
Tanks and Vessels
Our products can be used for many applications. For more information please contact us at info@heat-trace.com.
*NEW PRODUCT*
Heat Trace Limited's New Product - OneTrace-i – an all-in-one heating cable for frost protection and temperature maintenance.
Heat Trace Limited have launched a new product, OneTrace-i! An all-in-one light industrial/commercial grade self-regulating heating cable that can be used for freeze protection or temperature maintenance in a variety of applications within the commercial and industrial markets.
OneTrace-i is a new and improved development by Heat Trace Limited to extend the life of self-regulating heating cable and to overcome power loss due to thermal cycling and ageing.
OneTrace-i Features
• Can be used on several applications
• Can be cut-to-length
• Self-regulates power output in response to the applications temperature
• Improved efficiency
• Integrated conductors to extend life expectancy
• Will not overheat or burnout, even when overlapped upon itself.
• UV resistant outer jacket
• Quick and simple installations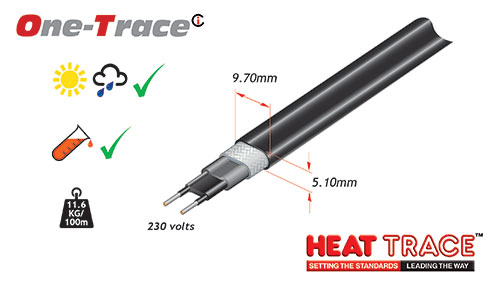 Where can OneTrace-i be used?
OneTrace-i is produced in a single output to satisfy the requirements of numerous applications.
Applications include, but are not limited to:
• Open-Air applications such as roof heating and anti-condensation.
• Ice/Water applications such as gutter heating, pond heating, water/feeding troughs and header tanks.
• Metal pipes / surfaces applications such as frost protection for water supply, sprinkler systems.
• Threshold heating or refrigerator doors
• Flow maintenance for oil and grease lines.
• Plastic pipe applications such as temperature control of complex valved piping systems or frost protection for agricultural water supplies, irrigation pipework and waste pipelines.
• Embedded applications such as snow and ice prevention, soil warming and concrete curing.
OneTrace-i Installation
OneTrace-i can be cut to length on location and is quick and simple to install, requiring no special skills or tools. OneTrace-i self-regulates power output in response to the applications temperature without overheating or burning out. Termination, splicing and power connection components are all provided in convenient kits.
Find out more at
heat-trace.com
Reviews & Testimonials for Heat Trace Limited (Trace Heating Specialists)

May 04, 2020
We have been really happy with the quality of the jobs performed on our site. The Heat Trace Limited team have been quick to deliver what we needed and have delivered to a high standard.
Testimonial by
Dominic Tsang
Heat Trace Limited (Trace Heating Specialists).

5

out of

5

based on

1

ratings.
Gallery
Click to close
Products & Services
Pipeline heating
Rail heating
Pipe heating
Ramp heating
Self-regulating trace heating
Gutter frost protection
Gutter de-icing
Gutter heating
Temperature maintenance
Trace heating
Process temperature maintenance
Frost protection
Heat Trace Limited (Trace Heating Specialists) Serves The Following Areas
Find Heat Trace Limited (Trace Heating Specialists) in
Heat Trace Limited (Trace Heating Specialists) General Description
Heat trace equipment UK