Time and date
CONSTRUCTION DIRECTORY
About Custom Built Kitchens
Custom Built Kitchens
Welcome to our website. We specialise in bespoke and custom built kitchens, bedrooms, studies and all built-in furniture. Our expertise is in designing, manufacturing and installing to individual client requirements offering extremely high standards in all areas of finish and service and good value for money.
HANDLE-LESS KITCHENS
We can provide handle-less kitchens using standard cabinets and integrated appliances, fridges, freezers, dishwashers, pull-out larders, magic corners - everything can be handle-less.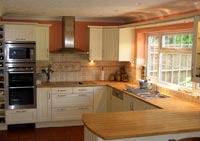 Some examples of our work include:
In-frame Painted Shaker Cabinets
Shaker style furniture is very versatile and can be used in traditional or contemporary settings - kitchens, bedrooms, studies and bookcases - and can be painted or built using the wood of your choice.
Oak Shaker In-frame
Click on the link to see further examples of our work.
For a free consultation or if you have any questions please email us, we won't bite!
Custom Built Kitchens Serves The Following Areas
Find Custom Built Kitchens in