Time and date
CONSTRUCTION DIRECTORY
Bolzoni Ltd

Contact Details
Address
Unit 10/Taurus Park
Europa Boulevard
Warrington
WA57ZT
About Bolzoni Ltd
The BOLZONI AURAMO Group was established in 2001, when Bolzoni S.p.A., founded in 1945, acquired the Company Auramo OY, founded in 1947, and merged together.
The Group has benefited from an extraordinary growth rate, and today is the largest lift truck attachment manufacturer in Europe.
Forming the Group has been a big step forward towards the company becoming a public one, in June 2006.
The BOLZONI AURAMO Group offers the widest product range in the market, supplying leading equipment for general handling and forest products, as well as customer-oriented solutions for special applications.
Passion, determination, technological research and innovation capacity allowed the BOLZONI AURAMO Group to reach ambitious targets in the market.
Our future challenge is to offer high quality products, assuring optimum performance together with safe handling.
The Group is active on all continents. It has 7 production plants, 19 companies, and the organisation presently employs 700 persons.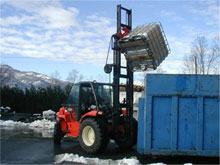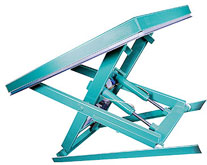 Lift Tables
The wide range of Bolzoni lift tables, with their usual safety and reliability features, provides an effective solution to most lifting problems.
The safety of the operator during the use of our lift tables is paramount.
Bolzoni lift tables comply with the European Safety of Machinery standards EN 292, Machinery Directive 2006/42/CE and Safety requirements for lift tables EN 1570.
All models of lift tables include:
Aluminium safety bar, stopping descent of lift tables when in contact with obstructions.
Safety clearance between scissors to prevent trapping during operation.
Safety check valve to stop the lift tables to lower in the unlikely event of a hose break.
Low tension control box with up-down buttons and emergency stop.
Protection against overloading of the lift tables.
Removable lifting eyes to facilitate the lift tables handling and installation.
Maintenance props (for safe maintenance operation).
In the Bolzoni program a wide range of lift tables and options are available to meet different requirements .
Due to our wide experience we are able to provide customised solutions.
Lift Truck Attachments
Paper roll clamps
Pulp & waste paper bale clamps
Sideshifters
Fork positioners
Multi-pallet handlers
Parallel clamps

Carton clamps
Brudi push pulls
Rotators
Specialized Product
Accessories & options
Forks
Bolzoni Auramo offers complete range of forks for lift trucks, construction and agricultural material handling machines, in many different capacities, sections and lengths, ISO and special mountings.
Strongly focused on product innovation, Bolzoni Auramo has employed the most advanced technologies and software for fork designing.
By using first class raw material and applying modern technological solutions and automated production processes, forks are produced according to customer requirements and the industry's strictest standards.
High-capacity manufacturing facilities offer flexibility in production volume output and fork model availability, required by OEMs on equipments installed at the origin and by the after-market, suitable for different machines and various applications.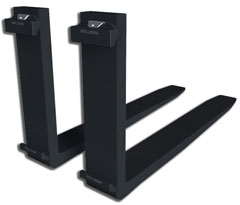 Bolzoni Ltd Serves The Following Areas