Time and date
CONSTRUCTION DIRECTORY
Arbil Limited

Contact Details
Address
Stourbridge
DY9 8HS
England UK
About Arbil Limited
With over 50 years' experience in the sales, hire and service of lifting and material handling solutions, specialist rail tools and 4x4 aftermarket accessories, Arbil is an industry leader. Substantial stock holdings of high quality, brand-leading products from its five UK sites are augmented by substantial in-house manufacturing, testing and calibration facilities.
Arbil's three specialists divisions of lifting, rail and 4x4 have plenty in common, whether it's lifting bridges, servicing the UK's fleet of track jacks or winching a vehicle out of trouble on a cold winter's day, only the most effective and durable product will do.
Arbil Lifting
The lifting gear division of Arbil Ltd specialises in the sales, hire and service of lifting, winching and jacking equipment to all major sectors. Arbil's vast hire fleet has been accumulated over five decades and it's testing capability goes up to 1000t. Arbil is also a manufacturer, its large portfolio of quality brands being ably backed up by comprehensive manufacturing facilities for wire rope, lifting beams and gantries, hydraulic jacks and bespoke forgings and lifting components.
Arbil Rail
Over the last 4 decades, as part of the Bills Group, Arbil rail centres have produced and sourced a range of products that have been designed and manufactured to be the toughest and most durable available. With constant product development new items are being added all the time for both Sales and Hire.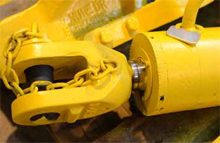 Arbil 4x4
Leading 4x4 Products. Prepare your vehicle for even the most hostile terrains.
Service, Test And Inspect
Arbil's dedicated Service Division has a full complement of service facilities at hand to examine, repair, test and calibrate all types of electrical, hydraulic and mechanical lifting and rail equipment as well as small plant.
Hire
Arbils dedicated Hire division provides an impressive range of hire equipment, ranging from full fleets of jacks, Hydraulic Tirfors, Dynamometers, lever and chain hoists and cable drums, to larger pumps and cylinders, wire rope, chain slings, gantries and rail beams.
Engineering
Arbil has the in-house facilities, experience and capabilities to design and manufacture one-off specialist fabrications to meet individuals bespoke requirements. A full design and fabrication process delivers concept through to finished equipment; with all manufactured items calibrated, tested and certified to both the safe working and proof loads required.
Arbil prides itself on its industry knowledge and expertise. Arbil uses this knowledge to provide leading bespoke manufacturing, high quality products, brands and full account management services, all at competitive prices.
This expertise and knowledge base is what secures Arbil's supplier relationships. Arbil only deals with the leading supplier brands across all divisions and these suppliers in turn only deal with leading distributors and manufacturers. Arbil's suppliers share the same confidence and reassurances in Arbil's capabilities as Arbil does in the quality and functionality of the supplier products.
Arbil Limited Serves The Following Areas
Arbil Limited Branches
Arbil Ltd
Foundry Lane, Bristol, BS5 7XH
Click to view telephone number
Arbil Ltd
Brandon Road, Coventry, CV3 2JD
Click to view telephone number