Time and date
CONSTRUCTION DIRECTORY
Address
27 Pantyfid Road
Aberbargoed
CF819DT
Wales UK
About APT
The PRO-STAFF 22 or 16 are all you need to build all-accurate Brick Block and Stone constructions. After around 5 minutes setup time you simply lay to the line and joint the mortar as you go. Provides full stability at all times and will fold down into a neat unit that can be strapped for storage. Everything you need is with each Pro-Staff -there is no mountain of extras to carry about or lose!
PRO-STAFF 22
The PRO-STAFF 22 is all you need to build all Brick Block and Stone constructions. Below is a 22 course lift on a gable. The Pro-Staff will allow for all jointing as you proceed.
The PRO-STAFF here is clamped down to the brickwork. Or you can clamp to the blockwork or any location in reach.
Or use a Pro-Staff 22 or 16 nearer to the rack corner, if you prefer.
The 2 Pro-Staff's used here took about 6 minutes to place and set the line.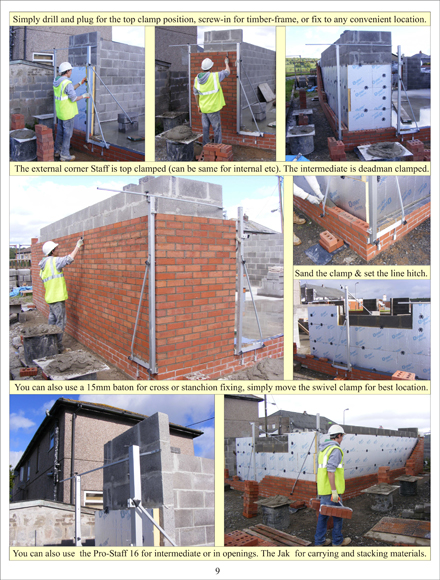 The POINTMASTER will form precise mortar "JOINTING" as the works proceed, governed by the wheels running on the face of the bricks, giving a consistent trowel action and pressure that helps create consistent mortar colouring of even mortar mixes, when the mortar is at its green state (is partially set but pliable). Our Pointmaster high tensile stainless steel half round irons are used to create far superior, precise and evenly compressed mortar joints which helps add structural strength and minimise water ingress. When the mortar has relatively dried, lightly brush the face of the brickwork, blockwork or paving, with a fine brush to a clean complete finish. It's worth noting that we can manufacture any type of finishing iron to order.
When you use the POINTMASTER for "POINTING", in our procedure the bricklayer flushes the joints in an area of about two square metres, or you can use our Pointmaster Mortar Gun to fill the joints. When the Mortar is at a green state the Pointmaster is used with any selected iron that is chosen to finish the first square metre and so on as the Pointing proceeds (and as described for "JOINTING" above).
We thank you for any purchase or recommendation of our tools which helps us in our aim of promoting excellence and honourable building practices within the Construction Industry.
PRO-STAFF 16
he Pro-Staff 16 can also be used for any and all other constructions; and for higher lifts they can be moved up after a 16 lift to 8 set bricks, to achieve 24 courses or as you wish.
Mostly used for rack or return work, at expansion joints, piers, stacks and window and door openings etc.
The JAK Brick, Block and Paving Lifting Tool
Allows you to lift an equal load to stack safely. A bolt will adjust by thread size to allow correct fit for all bricks, blocks and slabs in its range.
To adjust: simply thread in or out and keep the width between the jaws and material within 3mm of overall space, then lock the nut securely.
APT Serves The Following Areas