Time and date
CONSTRUCTION DIRECTORY
3C Drawing Services Ltd

Contact Details
Address
27 Parkfield Close
Tamworth
Staffs
B771HE
England UK
About 3C Drawing Services Ltd
Providing support service for Designers, Architects, Manufacturers & Building Industries. Assisting in the production and management of 3D and 2D drawings for sales and marketing, client approval, design and manufacture.
We have the ability to take a new concept from initial designs through to completion in production. Our team has worked extensively in all areas of retail, public sector and private residence.
3c's Services
2D & 3D CAD drawings for design & manufacture.
Detailed surveys& space planning.
Design Engineering.
Value Engineering.
Manufacturing setting out rods.
Cutting Cards & Requisitions.
3D Modeling.
Rendered visuals.
3D Animations & Walkthroughs.
All our draughtsmen are time served craftsmen with a thorough knowledge of all building materials and construction.
If you require, we can provide complete contract pricing for all the work we undertake and ensure you have the total cost prior to the work commencing.
2D CAD Draughting & Design
Since it's formation in 1998 3C Drawing Services Limited has played a prolific role in the production of CAD drawings for design and manufacture. Turning concept designs into reality with a practical knowledge of modern construction techniques and materials.
All our draughtsmen are fully CAD trained, are City and Guild trained craftsmen and have a thorough and practical understanding of all aspects of the construction and manufacturing industries.
Ideally placed to help you achieve your goals in producing a practical solution in design, architecture and manufacture.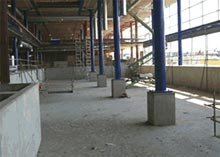 Surveys
3C Drawing Services Limited can provide full structural measured and levelled surveys of both new and existing buildings.
Using the very latest in laser technology for measuring and levelling the existing layout for Selfridges Birmingham (part shown here) was surveyed and drawn up in order to produce a final GA. Here it was necessary to project gridlines onto the floor and offset at set intervals to achieve the final shape for the drawing preparation.
As well as detailed structural surveys 3C Drawing Services have continually been called upon to provide component and unitry surveys in the retail, public sector and private residence areas. From simplistic surveys to the most complex we can meet you requirements.
Cutting Cards & Requisitions
All of our draughstmen are time served craftsmen with a thorough understanding of manufacturing techniques. This makes us ideally placed to help you in the production of cutting cards to help you increase your accuracy in manufacture.
Likewise we are ideally placed to help you in the production of requisitions to help you increase your accuracy in manufacture.
Renovations
Concrete Floor Replacement
During 2005 3C Drawing Services began work on a domestic property where the concrete ground floor had been severely distorted due to a sulphate attack. Sulphates within the hardcore below the existing slab had reacted with the concrete causing heave, denoted by severe cracking in the floor slab.


House Renovation
As part of the floor reinstatement 3C Drawing Services has undertaken major renovation works on this property to modernise the interiors and reinstate areas on the ground floor that had to be removed in order to replace the concrete floor.


House Extensions
An extensive knowledge of the building industry has allowed us to carry out additional projects one of which was a home extension to a property in Tamworth.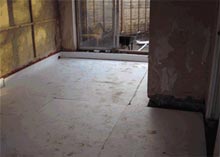 3C Drawing Services Ltd Serves The Following Areas
Find 3C Drawing Services Ltd in