Time and date
CONSTRUCTION DIRECTORY
NE Metalworks

Contact Details
Contact
Nicholas Grimwade
Address
Unit 11 Field Farm Business Centre
Launton
Bicester
Oxfordshire
OX26 5EL
England UK
About NE Metalworks
Bespoke MetalworkBespoke Metal Fabrications In Bicester and South England
With over 20 years' experience in structural metal fabrication, there is literally nothing NPG Metalworks can't make.
This site provides a number of examples of our previous metal work, but by no means offers an exhaustive list.
In the past we have designed, tested and built a number of domestic and commercial metal fabricated products, from garden gates to the AMT kiosks we have all learnt to love in our local stations.
Structural Metal Fabrication Projects
Alternative fuel racing cars
Rally car parts - wishbones & peddles etc
AMT kiosks
Hospital beds
Non damage logistic containers
Film props
Garden gates and metal features
Artist work
Disabled golf buggy
Web Design and Make Bespoke Metal Fabrications Throughout South England
Oxford
Gloucester
Bristol
Bath
Swindon
Reading
Southampton
London
Milton Keynes
High Wycombe
We also offer a full warranty on all the bespoke metal fabrications. We pride ourselves on the relationships we build with our customers to make their end product perfect.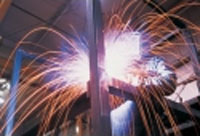 Domestic Metal Fabrications in Bicester and South England
If you haven't guessed already, here at NPG Metalworks our custom metal fabrication service is not just restricted to other businesses.
Some of our most interesting metal work projects have been done for domestic customers who simply want a metal fabricated product to make their lives easier. We specialise in designing metal products to improve disability access.
Our previous domestic metal work projects include:
Metal artist sculptures
Metal kitchen fascias and handles
Garden gates
Metal balconies
Metal garden features and furniture
Disability scooter amendments
Disabled golf buggies
Mobility ramps
Custom car parts
Commercial Fabrications
If our 20 years' experience in metal fabrication has taught us anything, it's that there is really no limit to what NPG Metalworks can achieve with their custom metal fabrications.
With our precision TIG and MIG welding we are able to make some of the most delicate and complicated metal fabricated products.
A few examples of our previous commercial metal fabrication projects:
Making injection moulding machines
Rally car parts - undertrays, wishbones & peddles etc
Eco fuel racing cars
AMT Kiosks
Hospital beds
Film props
No damage logistical containers
Mobility ramps
NE Metalworks Serves The Following Areas