Time and date
CONSTRUCTION DIRECTORY
Blackdown Green Roofs

Contact Details
Address
3 The Waggon Shed
Flax Drayton
South Petherton
Somerset
TA13 5LR
England UK
About Blackdown Green Roofs
The term "green roof" has many pseudonyms - living roof, brown roof, biodiverse roof, Sedum roof, eco-roof, grass roof, turfed roof, vegetated roof etc. Green roofs, typically designed to allow vegetative growth, can include both hard and soft roof landscaping solutions.
Blackdown green roofs are constructed from a range of components that replicate the natural growing environment for plants, without requiring the same depth and weight of construction.
Blackdown Horticultural Consultants was established in 1999 at our nurseries in the Blackdown Hills - designated an area of outstanding natural beauty - in Somerset.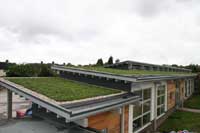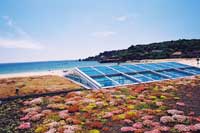 Design
We advise in the selection of the most appropriate green roof.
With a wide range of plant-related skills and experience, Blackdown advises on an array of roof planting issues, devising project-specific specifications and providing supporting technical information, such as CAD details and data sheets.
Supply
An extensive range of Blackdown Green Roof systems and components.
The Blackdown supply package includes all of the components necessary for a high quality green roof system, and is backed by interim (subject to size) and final inspections by our in-house green roof experts.
Maintain
Affordable maintenance for long-term plant wellbeing.
Blackdown devises planned and preventative programmes of maintenance (PPPM) specifically for the green roof configuration, location, climate etc at each specific project. Variable term contracts are available, ranging from short-term agreements (typically 2 years) to long-term contracts (e.g. 10 years).
Grow
Our plants are cultivated in and tailored to suit, the UK's climate.
Plants, grown in open field sites, benefit from the same conditions that help make the Blackdown Hills an Area of Outstanding Natural Beauty.
Grown in the UK's climate, our plants are ideally suited to UK green roof installations.
Install
Cost-effective, high quality installations.
With a unique capacity to control the design, supply and installation of the green roof, Blackdown represents a single-source green roof solution that delivers a high quality green roof on time and to budget.
Contact Us
Blackdown Green Roofs Serves The Following Areas
Find Blackdown Green Roofs in