Time and date
CONSTRUCTION DIRECTORY
Resikom Liquid Leak Detection Ltd

Contact Details
Address
111 Delaware Crescent
Shoeburyness
Southend On Sea
Essex
SS3 9PJ
England UK
About Resikom Liquid Leak Detection Ltd
What is Water Detection?
Water Leak Detection is an expression more commonly used for larger, integrated systems installed in "high-tech" buildings or those containing valuable artefacts, materials or other assets where early notification of a potentially damaging leak would be beneficial.
The Water Leak Detection industry is small and specialised with only a few manufacturers operating world-wide. The original application was in the void created by "computer room" floors in the days of large main-frame computer systems. These use a modular, raised floor based around a structural "floor tile" usually 600mm square and supported at the corners by pedestals. The void created gave easy access and routing for the mass of power, networking and other interconnecting cables associated with larger computer systems - processors, drives, routers etc.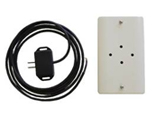 Mainframe computers also generated large amounts of heat so a void under the floor could also be used as a plenum to distribute and diffuse chilled air around the computer room. The void therefore was likely to have chilled water pipes running through it along with the drains for condensates associated with refrigeration plant. In addition designers also found the floor void a very convenient place to route other wet services feeding bathrooms, radiators and other facilities.
A leak occurring within a floor void would therefore go unnoticed until the hydrostatic head of pressure meant that the water found its way through to floors below where its dripping through the ceiling would be noted or, and more disconcerting, the water would penetrate the joints and connectors of the power or network cabling and cause system failure from short circuit.
What is Chemical, Hydrocarbon and Solvent Leak Detection?
Chemical, Hydrocarbon and Solvent Leak Detection uses the same principles as Water Leak Detection. You would normally find these types of detection in harsher environments such as laboratories (Chemicals), generator enclosures (Hydrocarbons) etc.
What Do We Protect?
Resikom Limited are specialists within the liquid leak and gas detection fields. Our motto is "no job is too small". With links to all major manufacturers, we are able to source the products that suit your application perfectly. We have a wealth of experience in every market from offices to pharmaceutrical plants to aviation. We are fully experienced in protecting the following areas:
Communication Rooms
Switch Rooms
Frame Rooms
PABX Rooms
Perimeter Heating
Plant Rooms
Pre Action Sprinkler Cupboards
Toilets
Kitchens
Generator Rooms

Tank Rooms
Oil Storage Rooms
UPS Rooms
Battery Rooms
Vending Areas
Canteen/Restaurants
Hotels
Luxury Apartments
Prestigious Houses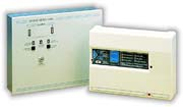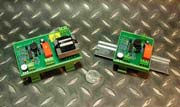 Products
At Resikom Limited, we have a wealth of knowledge and understanding concerning Liquid Leak Detection and Location Systems. Therefore we have partnered up with all major manufacturers to provide a solution for every conceivable application possible.
We can provide a single zone system and a point sensor in a drip tray up to a digital pinpoint location system capable of monitoring 1500 metres of sensing cable and a network of 128 remote sensing modules. We are also able to offer products designed for OEM and control applications such as air conditioning units, BMS controls etc.
There is also a wealth of different types of sensors available:
Sensing Cable for Water, Chemicals, Hydrocarbons and Solvents
Probes for Water and Optical Probes for Chemicals and Hydrocarbons
Dual Containment Probes for Water and Optical for Chemicals and Hydrocarbons
Pad Sensors for Pipework and Valves
Tundish/Overflow Sensors
Float Switches
Immersion Probes
Condensation Detectors
Rain Detectors
Refrigerant Gas Detectors
Temperature/Humidity Sensors
All controllers come with volt free relays. However some controllers come with RS-232, RS-485, JBUS or 4-20mA Transmitters as well. We can also supply remote alarms and auto diallers.

Resikom Liquid Leak Detection Ltd Serves The Following Areas
Find Resikom Liquid Leak Detection Ltd in