Time and date
CONSTRUCTION DIRECTORY
Destec Engineering Ltd

Contact Details
Address
Five Mile Lane
Washingborough
Lincoln
Lincolnshire
LN4 1AF
England UK
About Destec Engineering Ltd
Onsite Insitu Machining
Destec was formed in 1969, by the present owners of the company, and it has remained a Private Limited Company. In well over 30 years of trading the company has developed both products and services to industry, particularly where design and supply is concerned, with 'High Pressure Containment' and 'On-Site Machining' being the specialist lines.

 The management of the company had previously (1959-1969) been substantially involved in the design, manufacture, sales and marketing of 'Ruston-Grayloc' clamp type pipe connectors and seals. From 1969-1972 Destec Engineering were engaged by Gray Tool Co. (Grayloc), to continue with all aspects of the high pressure pipe connector market, on their behalf.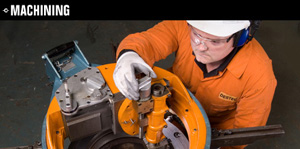 Bolt Tensioning
Since 1969 Destec have been committed to the design and manufacture of portable machine tools, partly for installation and servicing of company products, and also as a general On-Site Machining Service. Destec now have a most versatile and very wide range of in-house designed and manufactured portable machine tools that can undertake most machine shop operations on-site, on a world-wide basis.
Currently, Destec have a fully equipped machine shop with CNC turning capacity up to 1 metre diameter, vertical machining centres with 1.5m tables and a wide selection of general purpose machine tools enabling the company to offer a versatile machining facility.
This is supplemented by -
Welding/Fabrication.
PTFE coating unit.
Build, service and overhaul.
Full set of NDT equipment.
Inspection and Q.A department.
Stores and stock.
Packing and despatch etc.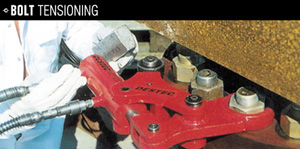 Pipe Clamp Connector
Destec engineering operate a Quality System approved by Lloyds Register of Quality Assurance to BS EN ISO 9001:1994.
Full traceability of all materials and conformance with exacting standards is ensured by a system operated by dedicated personnel backed up with the latest high technology equipment.
Standard products are Lloyds Type Approved.
Our principle clients are the Oil, Chemical and Petrochemical related industries, Power Generation, Steel, Marine and others.
Destec Engineering Ltd Serves The Following Areas
Find Destec Engineering Ltd in