Time and date
CONSTRUCTION DIRECTORY
Contact
Mr Stewart Carter
Address
Oaktree Cottage
Moat Lane
Warrington
Cheshire
WA3 6EE
England UK
About EcoClean
Welcome to Ecoclean – Mobile Soda Blasters
Welcome to Ecoclean UK, a soda blast company dedicated to supplying a fast, efficient, cost effective and most importantly environmentally friendly service.
Soda blasting is a high velocity discharge of a blast media using compressed air. The media is bicarbonate soda, which is environmentally friendly and is kind to the substrates surface that is being cleaned.
There is no end to the applications which soda blasting can be used. From brickwork, metal, plastic, wood, glass and rubber. It can remove graffiti, paint, rust, grease, and years of dirt and corrosion. You name it, we are 99% sure we can do it!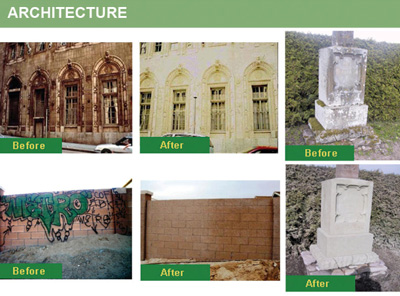 Some Advantages Of Soda Blasting Include:Cleaning & De-Coating in One Step
Standard abrasive blasting is a dirty process, often loading and even embedding the surface with contaminants (grease, oil, tar and abrasive particles) in the process of removing the coating. Recycled abrasives compound this problem by loading increasing amounts of contaminants into the substrate. Pure sodium bicarbonate blast media effectively de-coats and cleans the substrate in one step; producing a level of cleanliness not seen with most processes. The media is not reusable thus eliminating the issue of blasting with re-used media. Coating adhesion relies heavily on surface cleanliness and a surface profile has been used to offset this lack of cleanliness.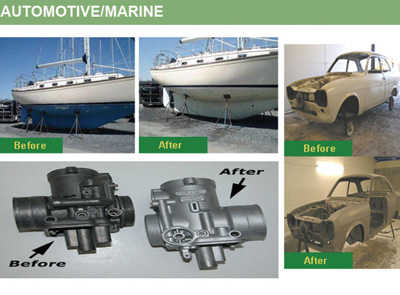 Unique Cutting Action
Sodium bicarbonate blast media offers the unique properties of sodium bicarbonate, the primary ingredient. The softness (Mohs hardness scale of 2.4) and friable nature of this crystal produces a unique cutting action with little or no effect on most substrates. For example, thick coatings can be removed from glass without any etching effect. With proper care, delicate substrates can be cleaned without damage.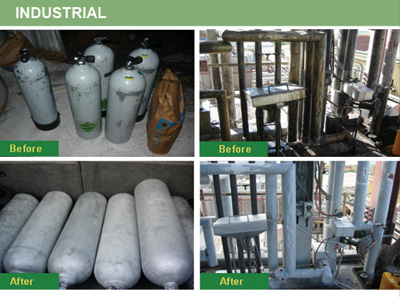 No Pre-Cleaning Required
For projects where the coating is covered with grease, carbon, salt or other contaminates, more traditional blasting methods require the coating to be fully cleaned before blasting. This is required so that contaminants are not driven through the coating and into the surface of the substrate, causing future coating failure.
Ecoclean UK is here to help you and your company to be one step greener!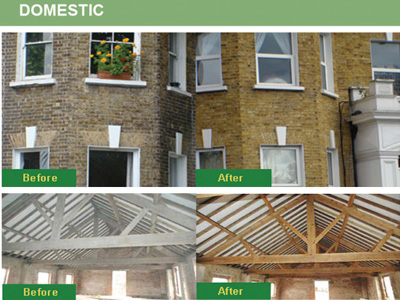 EcoClean Serves The Following Areas