Time and date
CONSTRUCTION DIRECTORY
Coopers Diamond Drilling Ltd

Contact Details
Address
78 Heath End Road
Nuneaton
Birmingham
CV10 7JG
England UK
About Coopers Diamond Drilling Ltd
Welcome to Coopers Diamond Drilling Ltd.ALL SERVICES BELOW COVERED WHAT EVER THE JOB!
Diamond drilling - diamond sawing - concrete cutting - concrete drilling - Brokk demolition -


Remote demolition - diamond drilling - stitch drilling - plunge sawing - concrete core cutting


Concrete sawing - chain sawing - ring sawing - floor sawing - wire sawing - wall sawing


Track sawing - bursting - crunching - wall chasing -under reaming - resin fixings - anchor bolting


Anchor fixings - loop cutting - traffic loop cutting - Brokk demolition - controlled demolition - floor polishing - concrete floor polishing

Concrete RepairsConcrete Repairs.
As our name suggests, we have unequalled experience in the repair of concrete structures, whether the problems are caused by design, construction, pollutants or damage.
Pressure Grouting.
Both chemical and cementitious grouting is carried out by Coopers Diamond Drilling Ltd for filling structural voids and strengthening foundations.
Resin Injection.
Cracks in concrete structures can often be repaired using low viscosity epoxy resins, injected under controlled pressure. This method provides a mechanical bond and restores structural integrity.
Protective Coatings.
Applied either post-repair or as a separate operation, specialist coatings offer enhanced protection against aggressive environments and all forms of external deterioration. Correct surface preparation and product selection is critical to long term success. Coopers Diamond Drilling Ltd are also experienced in the selection and application of corrosion inhibitors for long term protection of concrete.
Pressure Pointing.
Overcoming the disadvantages of hand repointing, pressure pointing is especially appropriate for water eroded joints on culverts, spillways, dams, etc. Complete infill and good compaction is achieved rapidly and consistently.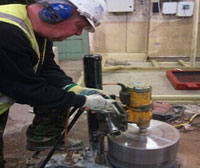 Mastic Jointing and Pointing.
Coopers Diamond Drilling Ltd offers a complete service for the preparation and sealing of all types of movement joints. Both new and remedial work is undertaken.
Precision Drilling and Strenghtening.
Old and defective structures can be strengthened by installing tie bars, anchors, dowels, remedial wall ties, etc. This is a field in which Coopers Diamond Drilling Ltd have considerable experience and are approved contractors for most systems including Cintec Anchors.
Leak Sealing
. A specially developed extension of pressure grouting techniques provides a permanent solution to water leakage into tunnels, basements and other underground structures.
Coopers Diamond Drilling Ltd Serves The Following Areas