Time and date
CONSTRUCTION DIRECTORY
Hassell Sennebogen®

Contact Details
Address
Alderflat Drive
Newstead Industrial Estate
Trentham
Stoke-on-Trent
ST4 8HX
England
About Hassell Sennebogen®
We supply the full range of SENNEBOGEN cranes and material handlers. Whatever your application we have a machine for the job...
We supply Green Line material handlers, multihandlers, heavy-duty crawler cranes, telescopic cranes, harbour mobile cranes, port cranes and truck cranes.
Crane Line
Long reach is the key
For nearly 50 years SENNEBOGEN has been developing heavy-duty universal rope excavators. Years of experience and the continuous intensive refinement of the product family have produced a complete range of high performance rope excavators featuring state-of-the-art technology. Adaptable to a wide range of jobs, extremely stable and with universal utility; rope excavators will remain indispensable in the 21th century. 

SENNEBOGEN telescopic cranes are extremely reliable and useful for assembly jobs on any building site, as well as in industry and wherever precise, safe load positioning is required. Low operating costs, compact construction and excellent mobility make SENNEBOGEN telescopic cranes on crawlers, or wheels the ideal machinery for universal applications. 

Lattice mast crawler cranes are enjoying a real renaissance, and with good reason. Outstanding lifting capacities, almost unlimited mobility on building sites, simple and quick to transport, self-assembly systems and low investment and running costs guarantee maximum benefit for operators. SENNEBOGEN's robust crawler cranes feature state-of-the-art technology, maximum flexibility and excellent economy.
Application
HD LATTICE CRAWLER
PURE LIFT L.CRAWLER
CRAWLER TELESCOPIC
WHEELED TELESCOPIC
TRUCK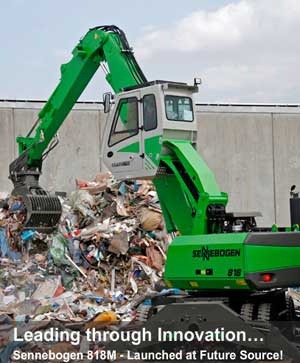 Green Line
SENNEBOGEN Green Line – Power and Precision
For more than 50 years, SENNEBOGEN has built up an excellent reputation in the materials handling industry worldwide. The current range of state of the art, high performance materials handling machinery is the result of intensive development work. 

Flexibility and maximum customer benefit are the prime considerations when it comes to developing new products. The consistent implementation of customer requirements means that the "green line" series can offer the perfect machine for any application.
 
Reliability and maximum availability are of crucial importance in most applications. SENNEBOGEN constantly focuses on developing robust, high performance technology that will have a long service life and require low maintenance even under the toughest conditions. 

Ergonomically optimised work stations and intelligent diagnostic systems ensure maximum efficiency in everyday work. The name "green line" represents SENNEBOGEN's responsible approach. By increasing efficiency and reducing noise emissions, the environmental impact is reduced.
Application
305 MULTIHANDLER
7 SERIES
8 SERIES
Efficient – Flexible – Powerful…
With over 50 years of development at Sennebogen, a superb range of machines are available for Port and Harbour general cargo handling, bulk material handling and heavy load duties.
Using elevating cabs for outstanding driver visibility of the working environment, robust superstructures to sustain long working lifetimes and a variety of flexible designs to suit the customer individual requirements can be achieved. Whatever the customer needs are, the modular design of the Sennebogen Port Line machines will provide the right solution for every type of port.
The product range utilises either rope or material handling designs and can move all types of cargo efficiently, reliably and safely at low cost.
Hassell Sennebogen® Serves The Following Areas
Find Hassell Sennebogen® in