Time and date
CONSTRUCTION DIRECTORY
UK Flood Barriers

Contact Details
Address
9a Wassage Way
Hampton Lovett Industrial Estate
Driotwich
Worcestershire
WR9 0NX
England, UK
About UK Flood Barriers
UK Flood Barriers is the UK's leading manufacturer and supplier of Kitemarked flood resistance and resilience solutions for homes and businesses including brick, door and sewage defence.
Established in 2007, as well as unrivalled experience in property level protection, UKFB has also been selected to deliver over 50 Local Authority Community Schemes. Its enviable reputation for quality and service was further reinforced with the delivery of the £4.4m Cockermouth barrier scheme and overseas projects in USA, France and Malaysia.
Its innovative Flood Angel products are designed, manufactured and fully tested here in the UK and through a training accreditation scheme operated in conjunction with the British Plumbers Employers Council (BPEC), provides a national network of fully trained and qualified installers. Working with already established 'local' certified businesses ensures installers have a hands-on appreciation of the issues faced by the community.
Recognised as the sector leader, UKFB is the only flood defence company to offer complete 'end to end' domestic and commercial solutions backed up with a certified product and installation service.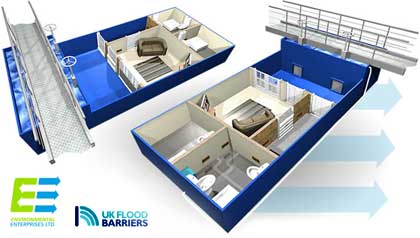 Products & Services
TANKING POLYMER
CABLE DUCT ENTRY PROTECTION
airbrick covers
door defence
UK Flood Barriers Serves The Following Areas
Find UK Flood Barriers in