Time and date
CONSTRUCTION DIRECTORY
Chameleon Stone Ltd

Contact Details
Address
Unit 3 Longton Industrial Estate
Winterstoke Road, Weston-super-Mare
Bristol
Somerset
BS23 3YB
England UK
About Chameleon Stone Ltd
The Highest Quality Natural Stone Tiles at Affordable Prices
Experience the beauty and warmth of our natural stone.
Our extensive range of Natural Stone Tiles offers you the opportunity to enhance your Kitchen, Bathroom, Wet room, Living Areas and Conservatory, in fact any wall & floor area you wish to Tile in your home.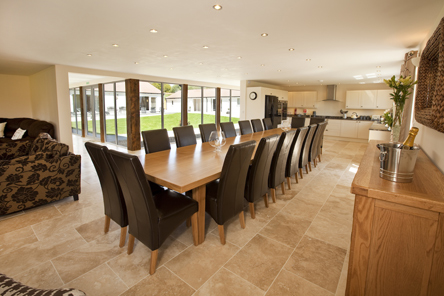 Our aim is to supply you with the highest quality tiles at the best possible price along with an excellent service. We fell in love with natural stone many years ago and believe that everyone should have the opportunity to purchase and enhance there home using our warm and beautiful natural stone tiles.
Our family run business has over 80 years experience in the stone industry. We buy our Natural Stone Tiles direct from carefully selected quarries around the world. As we buy in large quantities on a regular basis, this not only gives consistency of stock and quality it also allows us to buy at volume prices and pass these prices onto yourselves which makes us more than competitive.
We offer a nationwide delivery service direct from our premises in Weston-super-Mare, Somerset. We are ideally situated close to the M5 in the South West of England where you are welcome to visit our showroom. Our experienced staff, whose knowledge and expertise along with our visual displays of our Quality Tiles which include Limestone, Marble, Quartzite, Slate, Travertine, Mosaics, bowls and basins can help to transform your home!
We can also supply External Travertine, Slate and Sandstone to compliment the external area of your home.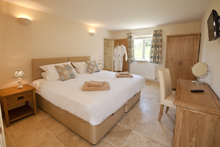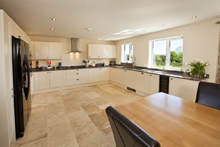 At Chameleon Stone we not only enjoy working with our Retail customers but work alongside many Architects, Builders, Interior Designers, Property Developers and Tile Showrooms who all appreciate the quality, class and style of our Tiles.
We have many satisfied Customers in local areas such as: Bristol, Bath & Taunton and also in the following areas across the UK; Cornwall, Devon, Dorset, Gloucestershire, Hertfordshire, Oxfordshire, Suffolk, Wiltshire, London and the South East of England, along with many in Wales and Scotland.
We will be happy to provide a free, no obligation quote; so please do not hesitate to contact us with your requirements. Public and Trade enquiries welcome.

Our Products
Travertine Tiles
Limestone Tiles
Marble Tiles
Slate & Quartzite Tiles
Mosaics
External Stone Products
Split Face Tiles
Slate Hearths
Stone Bowls & Basins
Adhesive Grout and Sealants
Decoupling Matting
Underfloor Heating

Contact Us
You are than more than welcome to visit us, our showroom is open from the hours of 8:30-5.00 Monday-Friday, and 9:30-12:30 mid-day on Saturday (Closed Bank Holidays).
If you require any information or help or a free no obligation quote please do not hesitate to contact ourselves by phone tel: 01934 616275.

Reviews & Testimonials for Chameleon Stone Ltd

July 31, 2013
Renovating a small flat, we did not need much slate, but Lach & Nicola were brilliant, they helped us choose from a good selection and we found what we wanted in budget. We subsequently ordered more as we extended the area we had originally planned to lay because we loved it. Chameleon also supplied us with a professional grade adhesive and grout for laying the product. We had a small hiccup when the slate was delivered but it was sorted out immediately and to our complete satisfaction. As competitive, but with better quality, as any of the larger retail outlets, we would definitely recommend them.

July 31, 2013
Finding high quality natural stone flooring can be very difficult, there are many high street retailers' that claim to offer high quality at a reasonable price. However in reality most high street retailers (And some of the boutique retailers), seem only to be able to offer an inferior product at the quality end of the price range. Finding Chameleon Stone was a relief, to be able to get insightful guidance combined with their high quality product ranges (Including the sealers and grout) helped us to select the stone flooring we were looking for within the budget we had available. Lach & Nicola live and breathe Stone Flooring and their knowledge and passion really helped us to get the right result. Both Lach and Nicola are very helpful and we feel that we have not only become a customer but friends also.
We have no hesitation in recommending Chameleon Stone for all your internal and external Stone flooring requirements.

July 31, 2013
I just thought I would take the time to write and let you know how happy I am with the professional and personal service I received when I recently purchased some wall and floor tiles.
The quality of the tiles, and additional materials, were excellent quality and value for money.
I had expected this based on the stock displayed in your showroom.
Your service from start to finish has been exemplary and on a professional, knowledgeable, yet friendly level.
I certainly will be recommending your company to family and friends.

July 31, 2013
I would like to thank you for all the assistance you have given us for the recent order we placed for tiles with yourselves for our home.
The quality of both the wall tiles and floor tiles you supplied for our kitchen and bathroom has been the talk of all our friends. I was a bit dubious of ordering from a supplier who was not local; however I would certainly recommend you both on quality and price and will have no hesitation in contacting you again when we do our extension.
I'm happy for you to give any of your future customers my number to confirm the above.
Thanks again.

July 31, 2013
I was recommended Chameleon Stone by a family friend who is actually very thorough (an engineer), so I felt sure the company would be a good bet. Also the fact that it was family run appealed to me.

As soon as I spoke to Lach I found him lovely, he gave me lots of time for all my questions and it was clear that he was very trustworthy, knowledgeable and passionate about his sourcing, his products and his company. The slate itself is beautiful. He worked out my measurements for my kitchen and bathroom and spent a lot of time making sure I was completely happy and understood the laying process so that I could be in some sort of control when the tiler came in. Even the lorry driver delivering the slate was charming. Lach has a great family company and product and I would recommend them 100%. When I finally get my garden laid with stone, I will be buying from Chameleon Stone even if it takes me ten years.

July 31, 2013
After buying a holiday flat where the bathroom tiles and shower had been in an unfinished state for over 18 months, the only information that the seller left was that the tiles came from Chameleon in Winterstoke Road, Weston, and I could get the reminder of the tiles from there.

Lach & Nicola were a wealth of information during the project to complete the tiling, which was very helpful as this was my first experience tiling with real stone. Their support, expertise and guidance has been extremely valuable, and add to this their friendly and efficient manner, it has certainly contributed to the lovely finished bathroom.

I would not hesitate recommending them and their products in any bathroom / kitchen project.
Chameleon Stone Ltd.

5

out of

5

based on

6

ratings.
Chameleon Stone Ltd Serves The Following Areas
Find Chameleon Stone Ltd in