Time and date
CONSTRUCTION DIRECTORY
Barretts of Aspley Sheet Metal Products Ltd

Contact Details
Address
North Common Farm
Woburn Road
Lidlington
Bedfordshire
MK43 0NN
England UK
About Barretts of Aspley Sheet Metal Products Ltd
BOA is an experienced provider of sheet metal products for a wide variety of uses.
Our highly skilled team is able to work closely with you to achieve the perfect result, whatever the nature of the project. We provide a complete turn key service, from CAD to production and finishing. Our range of
products
represents our core business, however we are regularly asked to provide bespoke solutions for our clients.
Our premises are perfectly positioned to the north of London, near Milton Keynes, with excellent transport links from the nearby M1 motorway.
OUR PRODUCTS
BOA Sheet Metal Products can help you to fulfil all your light gauge fabrication and pressing requirements. We are experienced in working with steel, stainless steel, zintec, aluminium and plastic materials.
Our knowledge of the electrical cubical business ensures these are always designed and supplied to the latest electrical specification requirements. Our range of products include cabinets, flashings, cappings, perforated panels, louvers and architectural metal work of all shapes and sizes.
* Design / Build / Paint
Using the latest 3D and 2D software we can take your conceptual designs and convert them into cost-effective visual models for customer approval prior to manufacturing. We welcome all enquires for a quick, competitive quotation.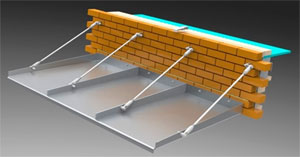 * Cabinets, Cubicles, Metal Boxes & Enclosures
We provide a wide range of cabinets, cubicles, metal boxes and enclosures to meet every specification, use and size. Options are available on internal mounting plates, shelves, bases, hinged doors and locks. These can be designed to be free standing or wall mounted if required.
* Flashings
We can fold form or weld all your flashing requirements from standard units to bespoke designs and in various material thicknesses to meet your specification. Where specified notches, cut outs or holes can be incorporated during the manufacturing process or left for on site fitting.
* Copings & Cappings
Our adaptable design of wall or parapet coping system offers ease of installation and maintainability. The capping system can be designed with flat, run off or ridged profiles to suite all design requirements.
Our secrete fix capping system incorporates a hidden bracket with a waterproofing gasket which enables 'snap on' fitting onto pre fixed brackets ensuring a ridged and durable external finish to any wall. Our system can be supplied with insulation in a range of material thicknesses and depths of capping. This system can be supply only or supply and install if required.
* Perforated Panels
A full range of perforated panels are available in various metals and high quality finishes for both internal and external application.
Click here for details on our website
* Louvres
Click here for details on our website
* Architectural Metalwork
Click here for details on our website
Barretts of Aspley Sheet Metal Products Ltd Serves The Following Areas