Time and date
CONSTRUCTION DIRECTORY
Grubb S.T. Ltd

Contact Details
Address
44 High Street
Ashley
Newmarket
Suffolk
CB8 9DX
England UK
About Grubb S.T. Ltd
We know what you need. We stock what you need. We deliver next day.
Grubb S.T. Limited offer a mail order service for possibly the widest range of podger spanners and scaffolders ratchet wrenches anywhere in the U.K.
Supertool has been producing high quality wrenches for many years and are continually developing new variations in line with user feedback.
In addition we stock King Dick podgers plus a wide range of day to day items such as barrel and carrot drifts, Super Setter fabrication clamps, frogs, belts, bags, etc.
Grubb S.T. is a company with a background in steel fabrication, steel erection and construction. We therefore understand your requirements.
We are U.K. Distributors of professional construction wrenches as produced by Super Tool Co. Ltd., of Japan, who have recently celebrated 35 years of ratchet wrench production.
Super Tool are the originators of the ratchet podger.
We believe that we stock the largest range of types and sizes of steel erectors podgers and scaffolders wrenches in the U.K. We also stock complimentary specialist items such as drifts and King Dick podgers.
The Super Tool range includes ratchet wrenches with two popular sizes on each wrench. The sockets are centre less, therefore there is no restriction on the length of bolt or studding that can be tightened.
The high grade steel used in the manufacture of these wrenches results in a much lighter tool and a wider range of sizes that the erector can safely carry on his belt.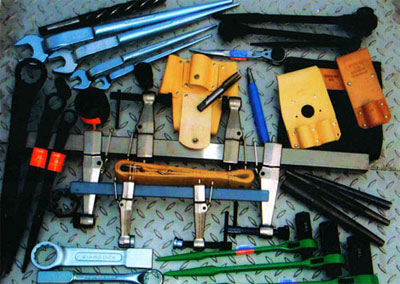 Grubb S.T. Ltd Serves The Following Areas