Time and date
CONSTRUCTION DIRECTORY
D T E Scaffolding & Safety Netting Ltd

Contact Details
About D T E Scaffolding & Safety Netting Ltd
07786914428(scaffolding)
sheryldtescaf@btconnect.com
www.dtescaffoldingandsafetynetting.co.uk
DTE Scaffolding was formed in 1997 and the Safety Netting side in 2003.
We supply and erect traditional tube and fitting scaffold, system scaffold, Mansafe safety netting and edge protection as well as Combi Safe net barrier systems and Layer staircases.
We have the capacity to service any type of contract commercial or domestic, large or small, long or short term.
As a company we pride ourselves on our high standards of professionalism with full attention to detail.
The team at DTE have many years experience in the scaffold and safety netting industry and we continually strive to improve our standards with regular industry accredited training and development.
Please explore our site and if you require further assistance please contact us.
Scaffolding
Covering London and East Anglia DTE Scaffolding can service a broad range of projects large or small.
We pride ourselves on our high standards of professionalism and attention to detail.
We can supply either tube and fitting or system scaffold to suit any project, and will advise the most cost effective solution for your needs.
All our operatives are very experienced and highly trained to ensure that any project we undertake meets our client's needs and is completed in a safe and professional manner.
We have worked hard to establish our reputation within the industry and are proud of our list of clients with whom we work on a regular basis.
If you think we can help please contact us to discuss your requirements.
Safety Netting
DTE Safety Netting operates throughout the whole country and can supply and erect mansafe netting with tube and fitting edge protection.
We can also supply Combi Safe net barrier systems and Layher staircases.
All our operatives are highly trained and experienced in the safety systems they install as well as the powered access equipment required to install it.
In addition to installation we have in house facilities to test and repair safety netting and the capability to repair nets on site which allows us to provide a comprehensive service to our clients.
We have recently expanded the safety netting side of our business by acquiring a former Colchester company known as Safety Netting UK.
The original mobile number 07979 506713 remains in use or you can contact us directly on one of our other numbers.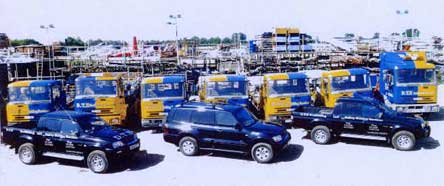 D T E Scaffolding & Safety Netting Ltd Serves The Following Areas
Find D T E Scaffolding & Safety Netting Ltd in