Time and date
CONSTRUCTION DIRECTORY
Dynamifix Ltd

Contact Details
Address
1200 Century Way
Thorpe Park Business Park
Leeds
West Yorkshire
LS15 8ZA
England UK
About Dynamifix Ltd
Dynamifix
supply a wide range of quality anchoring and fastening products from Powers Fasteners. Powers offer the widest range of Mechanical, Adhesive, Power Actuated and Gas Fastening systems on the market.
Powers products cover the full traditional anchoring range while specialising in innovative products that provide the architect, engineer and end user with aesthetic, high performance, labour saving fastening solutions and fast technical advice.
Products deliver consistent performance and conform to the latest building codes and approvals.
Professional Team
Dynamifix offer excellent customer service fully supported by Powers Fasteners - one of the leading global suppliers of anchoring and fastening products.
Quality Products
Powers products offer innovative, aesthetic, high performance, labour saving products conforming to the latest building standards and offering consistent performance.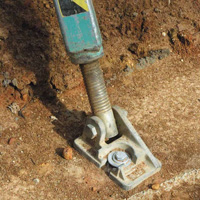 Products:
Concrete/steel forced entry


Wood forced entry


Mechanical anchors


Chemical anchors


Screws


Drill bits
Concrete/Steel forced entry
The Powers Trak-It C4 with 150 joules power, is up to 50-70% more powerful than any other gas nailer on the market.
Due to its exceptional power the C4 can easily fasten 65mm nails in hard concrete. It can handle up to 50mm wood to concrete, steel or sand-lime stone. The nailer also supports a range of XH nails for steel and heavy duty nails for very hard concrete. These include the new ''Hellfire'' nails with a full shank of 3.7mm.
The C4 is the next generation in gas fastening technology; no other gas nailer can offer you the same performance.
Wood forced entry
Powers Nail-It W3 gas nailers are specially designed for first fix wood to wood applications. Unique precision engineering provides a lightweight (3.5kg) gun that is both perfectly balanced for your comfort and also designed to give no kickback - users can operate all day in comfort and safety. The dial depth adjuster allows you to instantly adjust penetration depth without having to waste time taking the tool apart.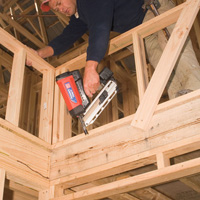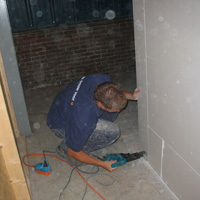 The Powers F16 is a powerful, ergonomic second fix framing nailer. Designed for 16 gauge bradnails, the F16 provides a low-cost-per-shot second fix framing system that's low on maintenance. It is powered entirely by battery which provides huge savings when compared to gas actuated brads.
A wide range of nails are available to suit most popular brands of gas actuated, pneumatic and battery powered wood nailers.
Mechanical anchors
High performance steel anchors, fasteners and accessories for virtually all applications in concrete, block, brick and stone. Suitable for light, medium and heavy duty applications.
Chemical anchors
Powers Fasteners has been researching and developing adhesive fastening technology for more that 15 years. During this time Powers has become a specialist in injection adhesive anchoring, with two component reactive resin mortar with no outward radial force. And more recently with the advent of a styrene free material and fire rated approvals, Powers is the first choice when it come to high load, stress free adhesive anchoring. Powers Fasteners provides the broadest range of products to meeting the needs of any DIY low volume application to the professional contractor requiring an environmentally friendly approved system.
Screws
A range of screws for fixing drywall panels, fixing window frames and general purpose use.
Powers Hammer screws are pre-assembled fixings. Hammer-screws provide a strong fix, especially for wood into concrete and brick and are ideal for window frames.
Drywall screws are the perfect way to attach drywall panels to your base material. Powers drywall screws offer the finest quality available, and yet are brought to you at a very attractive price.
Drill bits
Top quality SDS drill bits.


Quick drill advance and removal of drill waste.


Long service life and drill running.


Also available in bulk packs for additional savings.
Dynamifix Ltd Serves The Following Areas