Time and date
CONSTRUCTION DIRECTORY
About K V Radiators
Welcome to KVRadiators.com
We offer a wide selection of: Heating Radiators, Vertical Radiators, Horizontal Radiators, Designer Radiators, Contemporary Radiators, Bathroom Radiators, Towel Radiators, Low Level Heating, Plinth Radiators, Trench Heating, Underfloor Heating and Traditional & Contemporary TRV Radiator Valves. Our heating solutions are available in a range of different finishes including: Chrome, Aluminium, Satin Anodised, Stainless Steel, Grey Metalica, Gold, Brass, Primer and Painted.
A lot of our customers are redeveloping large sections of their properties at the same time as fitting new radiators; we are being frequently asked to supply furniture fittings that complement our radiators, therefore we have established connections with some of the largest fittings companies within the UK, allowing us to supply contemporary and traditional architectural ironmongery, at extremely competitive prices. Please phone our office for further details.
We supply the complete designer radiator ranges for both Vasco and Thermic, along with the valves and accessories for those radiators. Please ask for the latest brochure, which includes the new innovative additions such as the award winning Alu Zen and Bryce radiators. The BRYCE is a stylish radiator constructed from vertical aluminium profiles, which create a different look from every angle. Connection points and other awkward elements are hidden from view. The aluminium construction also boosts efficient heat emissions and is at the same time attractive and lightweight.The Alu Zen is flat panel radiator, providing all the benefits from being manufactured from aluminium. The Niva and Zana are stylish ranges with sizes available from stock. The Zana Multi won the prestigious design plus award in 2005 at the ISH exhibition in Frankfurt. We also supply wet and electric underfloor heating as well as bespoke trench heating. If you prefer your heating to be above floor level we also supply decorative finned tube in bespoke lengths in most colours. If you prefer a more traditional look, we also supply a wide range of cast iron radiators for that school radiator look in a wide range of colours.
Click Here

Click Here
to see our current Special Offers.
Click Here
to see our extensive list of Heating Products.
Please don't hesitate to contact us if you have any enquiries!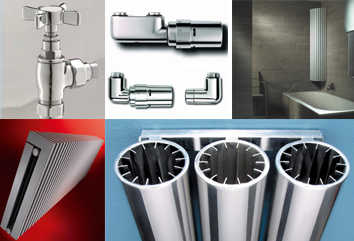 K V Radiators Serves The Following Areas