Time and date
CONSTRUCTION DIRECTORY
Bon Groundwork

Contact Details
Address
47 Winsor Drive
St Leonards Hill
Kent
Berkshire
BR6 6EY
England
About Bon Groundwork
Bonds is a family run and owned, fourth generation company established in 1916.
We are a local authority approved contractor, Babtie registered and Insurance Company recommended.
Through the first two generations Bonds have been a faithful, professional and dedicated contractor for Local Authorities such as Slough Borough Council, Windsor and Maidenhead, not to mention the various other Borough Councils that benefited from our expertise. Bonds held the soul supplier agreement with Slough Borough Council for some 30 years.
As the company grew and drainage became a regular issue Bonds became a drainage specialist working with Authorities, Thames Water and mainly for DynoRod and Metrorod. For these companies we would repair the sewer laterals that became defective in the carriageways and footways.
Now in the fourth generation Bonds have diversified once again to work with large companies dealing with the various maintenance issues that need contractors demonstrating the importance of SAFETY and professionalism.
We are currently working with large retailers helping build and renovate stores, where safety is our key performance indicator. Working with the public ensures you don't get a second chance!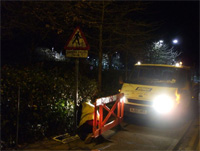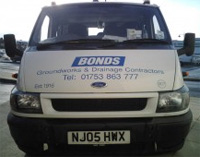 Our Services Include


From Drainage


Groundwork & Civil Engineering to Landscaping


Facilities Maintenance & Clearance


Bonds has the solution for all Domestic and Commercial Customers.


Concrete Coring, Drilling and Cutting


HPW Jetting and CCTV Surveys


New Roads and Streetworks Associated Works


New Sewer Connections and Lateral Repairs in Highway


Trial Holes and Test Sample


Rubbish and Waste Clearance (Waste Transfer Licence Obtained)
Bon Groundwork Serves The Following Areas