Time and date
CONSTRUCTION DIRECTORY
GEC Anderson Ltd

Contact Details
Address
Oakengrove
Hastoe
Tring
HP23 6LY
England
About GEC Anderson Ltd
SUPERIOR QUALITY AND HIGHLY FUNCTIONAL STAINLESS STEEL PRODUCTS (Since 1962)
Top quality brushed-satin stainless steel Sinks, Worktops, Cabinets, Shelving and Sanitaryware to meet your specific needs and requirements
MADE-TO-MEASURE, STANDARD and MODULAR units are available and are suitable for use in a wide variety of easy maintenance applications. They provide visual simplicity, intrinsic quality, durability, safety and hygiene.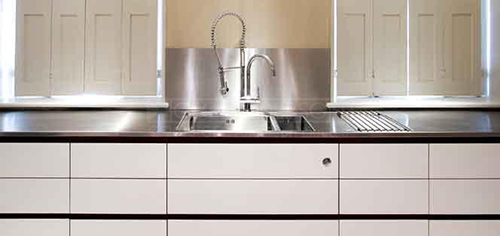 Stainless Steel Kitchen Worktops and Stainless Steel Catering Equipment
GEC Anderson have a comprehensive range of Stainless Steel Worktops that are ideal for Kitchens and work areas in all situations. A Stainless Steel Kitchen is stylish, hygienic, cost effective and easily maintainable. Have a look at our range of stainless steel worktops, stainless steel catering equipment and complete stainless steel kitchens.
Stainless Steel Sinks and Stainless Steel Basins
Stainless Steel Sinks and Stainless Steel Basins are a strong and hygienic choice for any kitchen or bathroom. They work particularly well in commercial Kitchens where cost effective kitchen equipment is needed. Stainless Steel Sinks do not rust or corrode, and are durable enough to take the strains of commercial use. Try our Stainless Steel Basins.
Stainless Steel Shelving & Cabinets
Stainless Steel Shelving Cabinets are strong, durable and can look great if carefully designed. Our Stainless Steel Cabinets are available in a variety of styles and sizes, so we are sure we will have Stainless Steel Cabinets suitable for your situation. Stainless Steel Catering Equipment is strong and durable, ideal for heavy use that the catering
Stainless Steel Sanitaryware and Stainless Steel WC
GEC Anderson also supply Stainless Steel Sanitaryware for use in a Stainless Steel WC. We stock and sell Urinals, WCs, basins, baths, wash-troughs and drinking fountains. Our Stainless Steel Sanitaryware and Stainless Steel WC collection are second to none.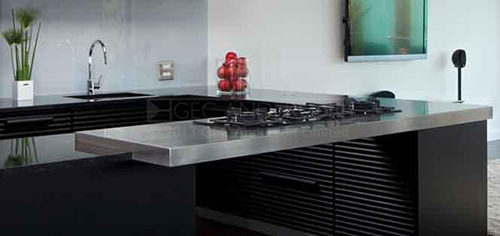 MADE TO MEASURE
Stainless steel sinks and worktops are tailor-made to meet your precise specifications and requirements.
Configuration - Any shape or size including L-shapes & over-sized pieces
Edges - Choose from our wide choice of edge profiles that can be tailored if required
Bowls - An impressive range of standard and special bowl sizes is available
Other - Matching shelving, doors, splashbacks, supports and stainless steel cabinets are also available
SANITARYWARE
GEC Anderson offers a comprehensive range of safe, highly functional and durable stainless steel sanitary appliances that are also versatile and good-looking. They are suitable for use in a wide range of applications, including public, commercial and industrial environments.
The robust construction of GEC Anderson sanitaryware can cope with heavy use in the toughest of environments and every unit is built to withstand vandalism and abuse. Hygienic, easy-to-clean surfaces make them the practical and safe choice wherever low maintenance ultra-hygienic facilities are required.
SAFE - Non chip and shatterproof
HYGIENIC - Easy to clean, stain resistant
DURABLE - Ultra long service life
ECONOMIC - Low maintenance, low life-cycle cost
VERSATILE - Suited to many environments
100% recyclable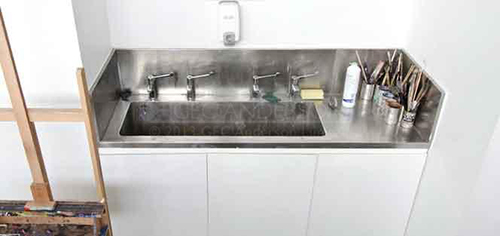 INDIVIDUAL STAINLESS STEEL SINK BOWLS
A comprehensive range of single and combination sinks that are suitable for use in conjunction with other worktop materials. Inset, undermount and flushmount fixing options are available.
Certain Individual Bowls can also be specified within GEC Anderson Made To Measure stainless steel worktops.
DECIMETRIC
A highly flexible, cost-effective, versatile and comprehensive modular kitchen furniture system comprising:
Sinks, Surfaces, Frames, Cabinets and Shelving.
100mm modular sizing increments: 100mm = 1 Decimetre (Dm) for economy and ease of specification.
Hard-wearing brushed satin stainless steel finish ensures the retention of a professional appearance even after heavy use in the most demanding of environments. Ultra-hygienic and with zero maintenance.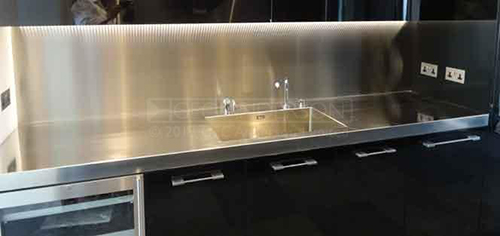 Gallery
Click to close
Videos
Products & Services
Measuring & installation service
Specification writing
CAD drawings
Stainless steel installation
Made to measure stainless steel
Residential & non-residential projects
Stainless steel decimetric kitchen systems
Stainless steel cabinets, shelving, doors & splashbacks
Stainless steel kitchenware
Stainless steel sink bowls
Stainless steel edges
Stainless steel worktops
Twitter Feed

Facebook Feed
GEC Anderson Ltd Serves The Following Areas