Time and date
CONSTRUCTION DIRECTORY
Springwave Steam Shower Enclosures (steam shower)

Contact Details
Address
Unit 2 Newbridge Trading Estate
Bristol
BS4 4AX
England
About Springwave Steam Shower Enclosures (steam shower)
Springwave Steam Shower enclosures are luxury steam showers with features such as chromotherapy, body jet massage, hydrotherapy and am/fm radios. Springwave's range of one and two person whirlpool bath tubs and bath tub and shower combination units also feature chromatherapy and hydro massage technology, a perfect partner for a steam shower.
Springwave Bathrooms are based in Bristol but our steam showers and whirlpool bath tubs are delivered nationally throughout the UK on a next working day basis.
STEAM SHOWERS BRISTOL
Steam showers
Whirlpool baths
Bath tubs
Bathroom equipment
Bathroom finishings
Bathroom products
Bathroom Installations and Bathroom Designs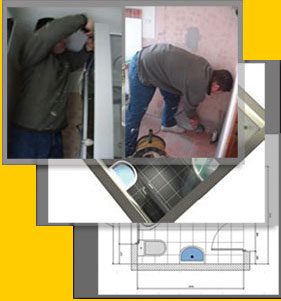 We can help you every step of the way from designing your bathroom, right through to installation. Not only can we help individual homes redesign their current bathrooms but we are able to help developers and hotels.
Our installation services range from tiling, plastering, plumbing, and much more. For more information click here
Steam showers are the ultimate in luxury showering. All of our steam showers feature chromotherapy (colour therapy) lighting, which is a mood enhancing light effect. Other models feature foot massagers, body jets, FM radio.
The heat and humidity of a steam shower enclosure causes the pores in your skin to open, softening and cleansing the skin and improving blood circulation. Steam showers induce sweat that carries excess salts (linked to hypertension) and toxins including heavy metals such as copper, lead, zinc and mercury, out deep from within the body. Steam showers can remove as much heavy metals in 15 minutes as your kidneys can in 24 hours. Steam showers also help clear your respiratory system and reduce congestion; these benefits as well as others can be further improved by the use of essential oils or loose herbs. Steam shower induced sweating also draws out lactic acid, which causes muscle stiffness and contributes to general fatigue. Sweating is incredibly good for the skin and proper skin care leads to a higher resistance against eczema, athlete's foot, pimples, blackheads and many other ailments.
Springwave Steam Shower Enclosures (steam shower) Serves The Following Areas
Find Springwave Steam Shower Enclosures (steam shower) in