Time and date
CONSTRUCTION DIRECTORY
Apollo Ceilings

Contact Details
Address
Unit 4
Larne
Co Antrim
BT40 1FF
Northern Ireland
About Apollo Ceilings
Apollo Ceilings
Based in County Antrim Apollo Ceilings work throughout the North and South of Ireland.
We are specialists in Suspended Ceilings, Stud Partitions, Dry Lining, Raised Access Flooring, Joinery, Plastering and Decorating.
We can offer a complete interior solution within timescale and budget.
View our Gallery here.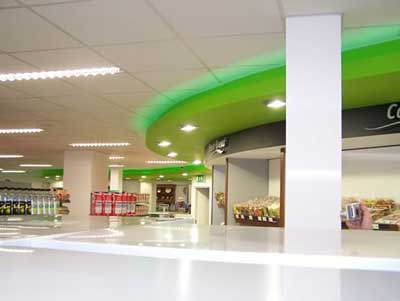 With emphasis on speed, attention to detail, value for money and finish. Our extensive experience allows us to provide project management as part of our overall service as well as giving thorough consideration to efficiency and cost at all stages.
Our Services:
Suspended Ceilings


Metal Stud Partitions


Dry Lining


Dot and Dab


Altro Whiterock Wall

Cladding


Raised Access


Flooring


Joinery


Plastering
Suspended Ceilings
Our suspended ceilings are installed in shops, offices, hotels, cinemas, churches, clubs, pubs, schools, hospitals, factories, warehouses and more right across the country. And with an ever-increasing range of styles and colours, your suspended ceiling will look great too.
Metal Stud Partitions
Metal Stud Partitions are lightweight, non-loadbearing and quickly assembled on site. They provide cost effective partitions suitable for all types of commercial, recreational, institutional and industrial buildings, as well as residential developments such as flats and apartments. They are also approved for use in hospitals. Metal stud can also be used as a wall lining system.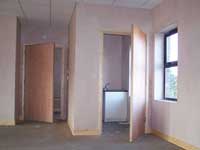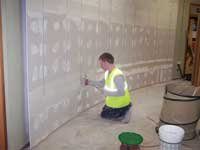 Dry Lining
Dry lining is a generic term applied to the use of plasterboard on timber or metal frames. Or as a replacement to conventional building practices where brick or block, or more traditionally lath and plaster would be specified.
Dot & Dab
Dot Dab is generally a process used to stick plasterboard onto a masonary wall using small dabs of drywall adhesive. Upon completion of the dot & dab process, then you can move onto plastering & painting & even tiling the drywall boards to give the room a finished look.
Altro Wall Cladding
Altro Whiterock cladding systems give a full bond to the wall substrate without any void or grout joints - the number one solution for most Environmental Health Officers. The only wall cladding to include an integral biocide "ALTROSAN" it is highly resistant to chemicals, impervious and can be wiped down or pressure washed.
Access Flooring
Access floors are a system of paneled, raised flooring that has brought building design to a new level of functionality. Through the careful construction of an elevated surface above a structure's original floor, a space can easily configure and reconfigure its air vents, wiring and data cables below.
Joinery
Joinery is a part of woodworking that involves joining together pieces of wood, to create furniture, structures, toys, and other items. Some wood joints employ fasteners, bindings, or adhesives, while others use only wood elements.
Plastering
Plasterwork is one of the most ancient of handicrafts employed in connection with building operations, the earliest evidence showing that the dwellings of primitive man were erected in a simple fashion with sticks and plastered with mud.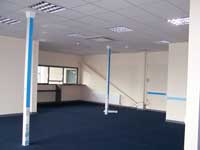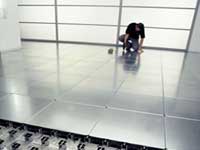 Apollo Ceilings specialise in all types of Suspended Ceilings, Stud Partitions, Dry lining, Whiterock Ultro Wall Cladding, Raised Access Flooring, Joinery and Plastering, hence offering the complete interior solution. Our fast, efficient and high quality service, enables us to complete all our contracts within budget and the times laid out in the Program of Works Schedule, whilst promoting a safe working environment.
Apollo Ceilings Serves The Following Areas