Time and date
CONSTRUCTION DIRECTORY
S Jones Containers Ltd

Contact Details
Address
Anglian Road
West Midlands
Walsall
WS9 8ET
England UK
About S Jones Containers Ltd
As a successful 4th generation family business we believe the quality of our relationships with customers, employees and our other stakeholders are vital.
When you or your staff have dealt with S Jones Containers you or they will have been properly looked after, both in terms of the business being done and on a personal level. Our overall customer satisfaction rating is consistently excellent.
Across the four areas of our business we are: caring, expert, modern, professional and efficient. We have a multi-faceted business where our areas of business support each other providing strength through diversity plus the sharing of knowledge, ideas, and market understanding.
BUY 10FT, 20FT OR 40FT CONTAINERS
NEW AND USED SHIPPING CONTAINERS FOR SALE
New and Used 8ft, 10ft, 20ft, 30ft and 40ft Shipping Containers For Sale Nationwide.
If you're looking to buy a shipping container, you've come to the right place. We have a great range of new and used shipping containers for sale.
Do you know exactly what container you're looking for? Visit our website to see full details of our shipping containers for sale including specifications and images.
HIRING A CONTAINER
HIRE 10FT, 20FT, OR 40FT CONTAINERS
Whatever your temporary storage requirements may be, we can help.
Whether its storage on your premises or another site, we supply containers to a number of business sectors, including shop fitters, construction sites, retail and education. We also hire to many private individuals for all sorts of requirements including home improvements and moving house.
View a full selection of our containers for hire here and request a quote using the form below or call us on 0808 115 3162 so that one of our container experts can discuss your requirements.
We listen carefully to all your needs so you get the right container for the job.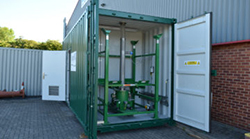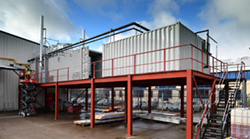 CONTAINER CONVERSIONS
DELIVERING BESPOKE CONTAINER CONVERSIONS
We have a wealth of knowledge and experience that enables us to produce containerised solutions for virtually any requirement.
We turn your concept into a reality. Our Technical Sales Team is highly skilled and knowledgeable and will guide you through the whole process, from the initial design through to the final delivery of your unit.
We are the manufacturer of your modifications, not a "middleman" company. When you discuss your requirements with us you are getting comments and experience directly from us, not via a 3rd party, which improves quality of understanding of your project.
Reviews & Testimonials for S Jones Containers Ltd

September 25, 2017
We received a unit for a major uk petroleum retailer. The quality was excellent as was the customer service. The unit was delivered promptly as indicated and the driver came equipped with fall arrest equipment (which was used without prompting). All in all an outstanding service!
Testimonial by
Chris, Sale, Engineering company - Dudley

September 12, 2017
Very good quality single use, 20ft container delivered as requested. With no fuss whatsoever. Just the job!
Testimonial by
Bryan, Sale, Hardware Store - Hereforshire

September 12, 2017
Ordered 2 containers.everything from order to delivery was spot on !
Testimonial by
Steven, Sale, Health Services - Northants

December 15, 2016
Very happy with the service. Container in good condistion and driver very helpful. and staff very helpful when ringing up your office.
Testimonial by
Sale, Joinery company, Cheshire

December 12, 2016
Delivery was prompt on the day that I requested
Testimonial by
Kevin, Sale, Pet Food Store, Derbyshire

December 10, 2016
Great sales team (Rachel Haycox).
Container exactly as described.
Super helpful haulier.
Very Happy, thanks You.
Testimonial by
Roger, Independent Property Developer, Hereford
S Jones Containers Ltd.

5

out of

5

based on

6

ratings.
Gallery
Click to close
Videos
News
26/09/2017
Containers converted into a secure storage and dispatch office
---
We've recently delivered 4 single-trip modified 20ft containers to a Birmingham based Presswork & CNC machining company to be used as a storage and dispatch office.

Our customer required a large secure storage and dispatch warehouse to be located on site to free up space in the factory to maximise productivity.

All of the modification work was carried out at S Jones in our workshop. All 4 containers were joined together to give our customer the capacity to house all of their equipment in one place with easy access. We installed electrics, worktops, windows and roller shutter doors.

The main reason our customer chose shipping containers was their durability, ease of relocation and their excellent stacking ability. A 2nd floor is now being discussed.

Our customer commented, "From start to finish a professional, helpful & friendly service, excellent quality of 4 converted containers, we will be using you again."

17/08/2017
Shipping Containers to house gas turbine machinery
---
Centrax Gas Turbines commissioned S Jones Containers to custom build three containers to house system upgrade machinery and equipment for a project in Croatia. Assembly and testing of the units took place at the Centrax headquarters in the UK and were shipped ready for installation - saving time at site and minimising disruption for the customer.

"The level of support and expertise at S Jones Containers was excellent. Right from the beginning of the project they listened to our requirements and asked the right questions, and after receiving their high-quality product we won't hesitate to use them again". Peter McCaig, Project Manager
19/12/2016
Container converted into welcoming reception
---
We were recently approached by a company who provide boutique camping accommodation at some of the UK's favourite music festivals. Their requirement was for a space that could serve as a flexible transport container as well as a public facing customer reception.

Katt, Project Manager at Pitch Village commented, 'S Jones were fantastic, helping us design a bespoke unit full of features such as power sockets, lighting and anti-condensation treatment - as well as more bespoke elements such as welcoming bi-folding doors, and an integrated shelving system. We are delighted with our S Jones container and look forward to working with them in the future.'
Twitter Feed

Facebook Feed
S Jones Containers Ltd Serves The Following Areas