Time and date
CONSTRUCTION DIRECTORY
Amaroc Services Ltd

Contact Details
Contact
Michelle Washington
Address
14 Stafford Ave
Balderton
Newark
Nottinghamshire
NG24 3DP
England
About Amaroc Services Ltd
AMAROC Services Ltd
, based in Newark, Nottinghamshire, provides soft and hard landscaping, tree services and grounds maintenance for both domestic and commercial customers.
From grass cutting and hedge trimming, new gates and fences, wrought iron work, block paving, water features to tree felling, Amaroc Services Ltd will provide a professional friendly landscaping service; whether it is a one off job or contract work, no job is too big or small.
Our Landscaping Services Include:
Landscaping Hard and Soft
Landscaping Design
Grounds Maintenance
Tree Services
Tree Felling
Tree Removal
Grass Cutting
Turfing and Seeding
Petrol Station Work

Hedge Trimming
Planting
Block Paving
Tarmacing
Fencing
Wrought Iron Work
Weed Control
Litter Picking
Tree Felling
AMAROC Services Ltd
gives you a complete landscaping service, with our experienced staff; we'll meet all of your landscaping needs, at the most competitive of prices.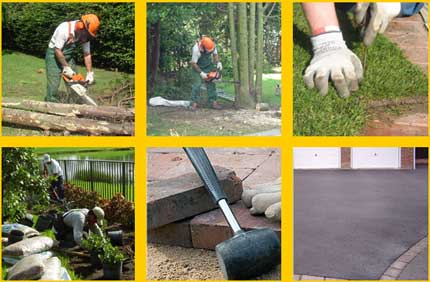 Landscaping ServicesAMAROC Services Ltd
carry out both hard and soft landscaping services throughout Newark, Nottinghamshire and the surrounding areas.
Soft Landscaping Includes:
Design
Ponds and Water Features
Turfing and Seeding
Planting
Small Lakes
Hard Landscaping Includes:
Block Paving
Fencing
Spraying
Slabbing Work
Wrought Iron Work
Tree Services
With elevated platform certificates we can handle any size of tree for both commercial and domestic customers. From small trees to large trees, AMAROC Services Ltd delivers a comprehensive range of tree services at the most competitive of prices.
Encroaching trees and their roots can be a major problem, reducing light to the rest of the garden. If they have to go, we can remove them. Alternatively we can thin out the trees, keeping their original size and shape.
Tree Felling
We fell large trees in sections and then remove them from site, we offer a stump removal service if required, or can leave the stump at a suitable height to encourage wildlife. Shrubs and smaller trees are cut down and put through one of our chippers and removed from site.
Mowing and Spraying
Total lawn care, from mowing to spraying, trimming to total weed control and a litter picking service.
For domestic gardens, schools, parks, playing fields, sports grounds, golf courses, industrial estates, utility services sites, petrol stations and supermarkets. Again, a one off project or contract work.
Fencing and Gates
We will remove old gates and fencing and replace with new fencing and gates, timber, metal, wrought iron work, mesh and security.
Domestic Work Includes:
Garden Maintenance and Clearance
Planting Trees, Shrubs and Plants
Paving
Block Paving
Fencing
Driveways
Turfing and Seeding
Grass Cutting
Hedge Trimming
Weed Control
Commercial Work Includes:
Site Maintenance and Clearance
Construction Site Landscaping
Planting Trees, Shrubs and Plants
Block Paving
Paving
Fencing
Tarmacing
Turfing and Seeding
Grass Cutting
Hedge Trimming
Weed Control
Litter Picking
We also specialise in the design and construction of wrought iron gates and fencing.All Our Green Waste is Re-cycled
Amaroc Services Ltd Serves The Following Areas