Time and date
CONSTRUCTION DIRECTORY
Three Counties Drainage

Contact Details
Address
Tipsgrove Farm
Pixley
Ledbury
Hereford
HR8 2RW
England
About Three Counties Drainage
We specialise in Thrust Boring, Pipe Ramming and Pipe Bursting while maintaining our specialism of Trenchless technology.
Pipe ramming services
Open ended steel pipes can be rammed through the ground from a start to an exit pit. Accumulated spoil inside the steel pipe is partially removed during the ramming process and can be totally removed after the bore has been completed.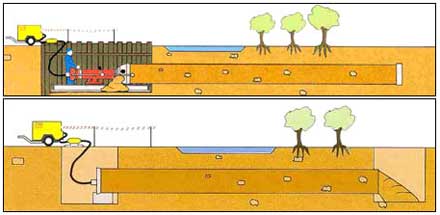 Pipe bursting services
Many kilometers of small sewers are inaccessible, running across gardens, under walls, fences, roads and buildings. Replacement by traditional excavation in such locations, if possible, could involve considerable expense and inconvenience. The hydraulic Pipe Burster requires only two small access points, an entry and an exit, and only two operators. The old sewer pipe is totally replaced by a new polythene pipe P.E. or similar.

Thrust boring soil displacement (MOLEING)
For new pipe and cable installations of mains and services, soil displacement hammers have been an economic and ecological alternative to open trenching for more than 20 years. Operated by compressed air, the mole thrust borer makes its way accurately through the ground creating a bore hole in all compressible soils.
Three Counties Drainage Serves The Following Areas