Time and date
CONSTRUCTION DIRECTORY
Kubota (UK) Ltd – Construction Equipment Division

Contact Details
About Kubota (UK) Ltd – Construction Equipment Division
Kubota
is the UK, European and world leader in mini excavators and its machines have a legendary reputation for quality, performance, reliability, versatility and excellent residual values, coupled with outstanding dealer support, providing unbeatable value for money.
With the widest range of minis available from a single manufacturer, Kubota offers 19 base models spanning the weight range from 850kg up to 8 tonnes and including the largest selection of highly versatile zero tail swing machines from 1 to 5 tonnes.
The compactness, productivity, versatility and cost-effectiveness of Kubota mini excavators make them ideal for many different applications and end-users; from building, construction, civil engineering, quarrying, demolition, recycling and landscaping, to plant hire companies, utilities and owner operators.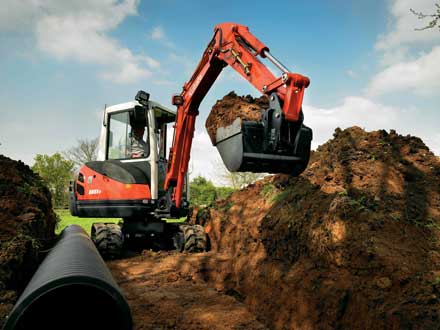 All Kubota minis, from 1.5 tonne upwards, incorporate their unique key-based 'ANTI-THEFT' system. This complete, easy to use security device was the first and is still the only one of its kind fitted as standard equipment by a mini excavator manufacturer – providing extra piece of mind without extra cost.
The 'ANTI-THEFT' system is based on an individually programmed key for each machine that replaces the traditional universal starter key. Without it, the machine's fuel hydraulic and electric systems are totally immobilized and any attempt to start the machine with an un-programmed key activates an alarm.
All Kubota machines are fitted with their market-leading engines, which provide highly economic and environmentally sound performance.
Kubota minis are also stealing a further march over their competitors due to the increasing number of useful attachments that can be fitted, including quick hitch coupler systems, breakers, drills, hammers, kerb layers, compactors, grapples, mowers, mulchers and a variety of different bucket types.
Kubota mini excavators have an appetite for hard work and are supported by a nationwide network of specialist appointed Construction Equipment dealers across the UK and Ireland, together with Kubota's own dedicated sales, parts and service teams.
Contact the response hotline for a copy of the Kubota Investment Information Pack (and a free keyring whilst stocks last) and find out why more people choose Kubota than any other mini excavators.

Kubota (UK) Ltd – Construction Equipment Division Serves The Following Areas