Time and date
CONSTRUCTION DIRECTORY
Arcadia Irrigation Ltd

Contact Details
Contact
Philippe Berthoud
Address
Kennel Cottage
Hawthorne Lane
Rowledge
GU10 4DJ
England uk
About Arcadia Irrigation Ltd
Arcadia Irrigation supply professional garden and landscape irrigation products, we are sole distributors for K-Rain® Manufacturing based in the U.S., one of the world's foremost manufacturers of gear-driven rotors, sprinklers, sprays, controllers and valves for the commercial and residential irrigation markets. Arcadia Irrigation are also distributors for Rain irrigation, who are based in Turin, Italy, and we stock their tap timers, battery operated timers, valve boxes and accessories.
Arcadia Irrigation also supply Orbit Irrigation timers, ESPA pumps, Enduramaxx water tanks and accessories.
Arcadia Irrigation
hold large inventories of the most commonly used rotor drive sprinklers, pop-up spray sprinklers, nozzles, solenoid valves and timers.
IRRIGATION SYSTEM INSTALLATION: Arcadia Irrigation
have a network of professional installers, so if you are looking to have an irrigation system installed (big or small) please contact us on 01252 714 986 or
sales@arcadiairrigation.co.uk
for further information.
SOME OF OUR PRODUCTS
K-Rain's RPS 75i comes in plastic or stainless steel riser, retains all of the features and benefits of the RPS75™ and delivers even more! To reduce the radius and distance in other rotors on the market, the nozzle must be changed or the break-up screw must be engaged. These steps limit the maximum reduction to 25% and cause uneven watering. With the RPS 75i, a simple turn of the patented Flow Shut-Off controls distance and water flow proportionately—up to 50%. The RPS 75i delivers even water distribution, eliminates dry spots and provides better zone performance while saving water.
BL-KR Battery Powered Bluetooth Controller
Easy programming from most smartphones and tablets!
No more crawling around the valve box trying to program or troubleshoot a battery powered timer – The BL-KR timer puts full programming control in the palm of your hand.  With 100% waterproof and rugged construction, the BL-KR is ideal for isolated sites and power-restricted areas, and allows for programming with a few taps on a smartphone or tablet through direct Bluetooth communication up to 32 feet away from the valve box.   Add multiple controllers (up to 200 timers) and program easily and quickly from 1 free application.
K-SPRAYS
K-Spray pop-up sprinklers are ideal for watering smaller areas, ground cover and shrub areas. Available in 3'', 4'', 6'' and 12'', to make the pop-up spray family completely compatible with all other makes, we have models with a riser with a male thread or a riser with a female thread.
Electric valves
K-Rain's ProSeries Valves offer the irrigation professional a wide array of features and benefits. Sizes from 1'', 1 ½'' and 2'', including a 1" jar top for easy servicing.
PRO EX 2.0 MODULAR IRRIGATION CONTROLLER w. REMOTE CONTROL
K-Rain's Pro EX 2.0 Modular Irrigation Controller: Still conveniently modular and expandable from 4 to 16 stations, the PRO EX 2.0 is now available with remote control- both short range and long range. The largest backlit display on the market, user-friendly programming and responsive touch pad takes the Pro Ex 2.0 to a whole new level for irrigation controllers.
RPS 469 IRRIGATION CONTROLLER - 4, 6 & 9 STATION MODELS
Designed for residential and light commercial applications, the RPS 469 has six individual programs to allow for efficient watering on separate program.
RPS 1224 IRRIGATION SYSTEM CONTROLLER - 12, 18, & 24 STATIONS
With 12, 18 and 24 Stations, the RPS 1224 covers all of your needs, regardless of size or complexity of the project at hand.
Tap timers:
AMICO +
Amico + ™ tap timer is the most user friendly and a high quality product in the market. Programming has never been so easy, the large display 3" allows to see all the data in one look. The backlight display and the large characters allow to program the controller during the day and the night.
AMICO 2 +
Using the same programming of Amico +, Amico 2 + allows to set 2 different valves completely independent.
Valve boxes EZopen
The EZopen valve boxes are opened by simply lifting and pulling a discreet handle embedded in the lid. 6" round, 10" round 12" standard rectangular and Jumbo valve box.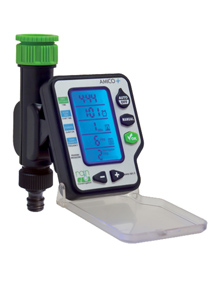 Gallery
Click to close
Products & Services
Arcadia Irrigation Ltd Serves The Following Areas