Time and date
CONSTRUCTION DIRECTORY
Clemson Demolition

Contact Details
Address
Manor Farm
Peppard Common
Henley-on-Thames
RG9 5LA
England
About Clemson Demolition
Clemson have the expertise and plant to cope with projects of all sizes for both private and public sector clients in industrial, agricultural, educational and residential industries. Based near Reading we operate between London, Birmingham and Swindon.
In addition to our full demolition services we provide bulk excavation, strip-outs, concrete crushing and breaking, fire damaged and unsafe buildings work.
Clemson is dedicated to sustainable waste management. On every project we undertake, we aim to reuse, recycle and reduce all waste limiting the amount to landfill. All works are carried out in sequence, segregating the material types, crushing all rubble and screening soils. Being licensed waste carriers we can move materials from site using our own fleet of eight wheel tipper lorries.
We are committed to complying with or exceeding all current health and safety legislation (including CDM BS 6187:2000). All reasonably practicable measures taken to avoid risk to employees and all around them.
We are proud of our excellent health and safety record and work hard to keep this as a cornerstone of our work. All our operatives are highly trained and we actively encourage them to further their skills and knowledge of our industry.
We are fully insured and are happy to meet any particular requirements you may have. Full references are of course available. If you have any queries, would like a quote or just wish to know a bit more about us please do not hesitate to get in touch. We will happily answer any questions you may have.
Demolition
General Demolition
* agricultural
* industrial
* domestic

Concrete Breaking
Internal Soft Strip
Recycled Aggregates
Crushed Concrete
Hardcore
Concrete Crusher for Hire
Screened Top Soil
Plant Hire
We have a range of heavy machinery available for hire with operators:
5 tonne dumpers
mobile screeners
mobile concrete crushers
excavator sizes range from 2.8 tonne up to 22 tonnes
wide range of attachments from grapples to crusher buckets etc.
8 wheel tipper lorries
8 wheel hook loaders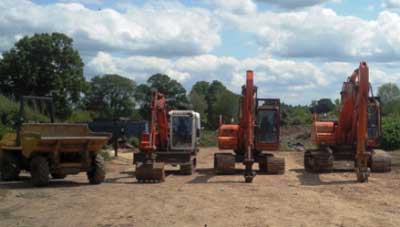 Bulk Excavation
With our fleet of excavators and tipper lorries, we can handle any earthmoving project.
Clemson offer a range of bulk excavation and groundwork services.
Clemson Demolition Serves The Following Areas