Time and date
CONSTRUCTION DIRECTORY
Dufaylite Developments Ltd

Contact Details
Address
Cromwell Road
St Neots
Cambs
PE19 1QW
England
About Dufaylite Developments Ltd
FIRE PROTECTION PRODUCTS
Dufaylite Developments Ltd manufacture a complete range of fire protection systems, specifically designed to give building contractors flexibility and reliable protection from 30 minutes to 4 hours in a wide variety of applications.
This section is intended to give professionals an overview of the range; full technical specifications and installation instructions are available upon request.
Included in the Dufaylite range of fire protection products are fire dampers & grilles, firesleeves & pipe wraps, strips and sealants, fire batts, bags and mortar to provide an effective passive fire solution for all parts of the building envelope.
Fireblock
The principle of Fireblock was developed by the Fire Research Station, and is the original intumescent honeycomb damper, renowned for its reliability and air movement efficiency.
Designed to provide 1 hour fire resistance in accordance with BS476 Part 20 (1987) and ISO 834, Fireblock is available in square and circular formats to suit interior applications and can be made to fit irregular angles within the building envelope. Joined together, Fireblock forms an effective fire compartmentation in roof space, walls and floors, allowing the free movement of air in non-fire situations.
Fireblock FD30 & FD60
Designed specifically for flush mounting into 1/2 hour and 1 hour internal fire doors and partitions, Fireblock FD30 and FD60 provide effective ventilation in non-fire situations.
Both products have been tested in accordance with BS476 Part 20 (1987) with all the inherent benefits of the standard Fireblock construction. Non-vision blocks are also available.
Fireblock Ultra
Fully certified in accordance with BS476 Part 20, Fireblock Ultra dampers are designed to provide up to 83% free area and up to 4 hour fire rating for optimum performance. Manufactured from slats of quick activating moisture-resistant intumescent material secured in a galvanised steel frame, Fireblock Ultra is a robust damper ideal for high air movement. Suitable for aggressive environments and resistant to moisture, Fireblock Ultra is suitable for both external and internal situations with fast closure in a fire situation.
Fireblock Ultra Hi Air
For high air movement ducting, Fireblock Ultra Hi Air dampers have been purpose designed to provide a super efficient performance. The damper's framework is sited on the outside of the duct to eliminate all 'solid' elements of the damper from within the duct interior. Fireblock Ultra Hi Air is manufactured from the samequick activating material as Fireblock Ultra with all the inherent benefits.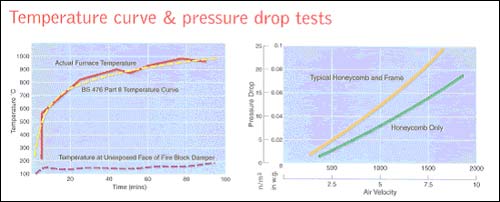 Firesleeve
For horizontal and vertical PVC pipework penetrations through fire barriers, Firesleeve is fully tested in accordance with BS476 Part 20 (1987). The galvanised steel outer casing has intumescent lining that swells in a fire to crush the softening pipe, preventing the spread of fire. Suitable for soil and vent pipework, chemical waste, pneumatic document transfer systems, electrical cables and conduit.
Pipe Wraps
For horizontal and vertical PVC-U pipework penetrations from 56-200mm, Pipe Wraps give up to 4 hours protection against fire and are water resistant. Use in conjunction with Dufaylite fire resistant mortar.
Intumescent high pressure activation, low volume strip for door edges and frames. Monostrip provides 1/2 hour and 1 hour fire protection. Dualstrip provides 1/2 hour and 1 hour fire and smoke protection.
Interdens Strip
Intumescent low pressure activation, high volume strip ideal for glazing applications within doors and glazing, providing up to 1 hour fire resistance, and is tested in conjunction with Pilkington glazing systems
Fire Sealants
Interdens hard setting paste protects internal glazing, door lock cavities, architraves and partitions.
Acrylic 2 is a sealant that intumesces rapidly to fill the increasing gap as substrates distort in fire conditions, and offers a fire rating of up to 2 hours. Silicone 4 is excellent for weather-sealing expansion joints and forming a movement joint between dissimilar substrates. Fire rating of up to 4 hours.
Both Acrylic 2 and Silicone 4 can be used in conjunction with Dufaylite FIRESLEEVE units and Dufaylite FIREBLOCK fire dampers.
Dufaylite Developments Ltd Serves The Following Areas
Find Dufaylite Developments Ltd in