Time and date
CONSTRUCTION DIRECTORY
Ecotech Recycled Products Ltd (Ecostar)

Contact Details
Address
Work West Unit 37
301 Glen Road
Belfast
Co Antrim
BT11 8BU
Northern Ireland
About Ecotech Recycled Products Ltd (Ecostar)
EcoStar is
. . . . timeless roofing that envisions the beauty of natural slate or shake yet offers the important elements of today's modern technology performance. A marriage of enhanced technology and exquisite aestethetic appeal makes EcoStar, the premiere manufacturer of steep slope premium roofing.
Browse our online gallery for many examples of our inspirational work to date.
EcoStar is
is the exclusive distributor of EcoStar in Ireland, UK and Europe.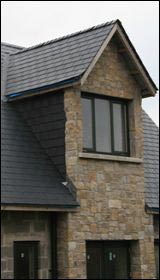 EcoStar provides high quality, competitively priced premium steep slope roofing products, using recycled rubber and plastics technology as their base. EcoStar continually strive to enhance our product offerings, accessory products and full system capabilities.
Nine Colours and Six Styles...Imagine the Possibilities!
Make a statement in your neighbourhood, and let the irresistible charm of EcoStar™ tiles inspire endless possibilities. Whether you prefer a conservative or modern architectural style, the variety of EcoStar™ profile and colour pallets allow home and business owners to express their creative side.
Majestic Slate Traditional
Make a lasting first impression with EcoStar's Majestic Slate. Class, elegance and durability are all captured in this traditional tile. Half the weight of slate, Majestic Tile is an inspiration for homeowners who want beauty and sustainable performance and durability. Experience the luxurious qualities of Majestic Slate Traditional.
In a world of diminishing resources, Majestic Slate offers a unique opportunity to purchase a strong and attractive roofing system while supporting the use of recycled building products. Sustainable building products continue to grow in popularity. Majestic Slate offers a positive environmental and economical choice.
Majestic Slate is 300mm (12 inches) wide, 450mm (18 inches)long by 6mm (1/4 inch) thick. On roofs greater than 14 degree pitch, Majestic Slate may be installed with a 160mm (6 inches). On roofs greater than 26 degrees, Majestic Slate tiles may be installed with either a 150mm (6 inches), 162.5 mm (6.5inches) and 175 mm (7 inch) exposure.
Majestic Slate has its own ridge system in the same style and colours and can be used on any roof pitch.

EcoStar Designer Series
EcoStar can provide an old world look with designer shapes and colour. These unique shapes Beaver Tail, Beveled and Chisel Point can provide these accents.
Titus Tiles
Titus Tiles offers a look of the historic, oversized abestos diamond shaped tile. Titus Tiles are 525 mm x 750 mm (21 inches x 30 inches) in size. The large size of the tiles makes for quick, easy and economical installation. Titus Tiles turn a large plain roof into an important part of the overall architecture. It is a beautiful historical choice.
Seneca Shake
Seneca Shake was created to meet the need for a safe, durable alternative to wood roofing. Seneca Shake emulates the exact look of wood shake, yet is durable and lightweight. Unlike other wood products, Seneca Shake is available in nine different colours offering a unique architectural opportunity.
Seneca Shake is manufactured at random widths of 160mm (6 inches), 225mm (9 inches) and 300mm (12 inches) to create the traditional look of a wood shake roof. They are packaged in a style to make every application easy and economical.
Accessories
- Copper Ring Shank nails
- Stainless Steel Verge and Lath hooks
- Breathable membrane
Reviews & Testimonials for Ecotech Recycled Products Ltd (Ecostar)

November 07, 2013
I fitted the dark grey Majestic slate for a customer 6 years ago. It still looks as good today as when it first went on . My customer was delighted with the results together with the peace and quiet inside the house even in the worst weather the Highlands of Scotland could throw at this amazing product. Highly reccomended.
Review by
Bruce Williams Design to decor Ltd
Ecotech Recycled Products Ltd (Ecostar).

5

out of

5

based on

1

ratings.
Ecotech Recycled Products Ltd (Ecostar) Serves The Following Areas
Find Ecotech Recycled Products Ltd (Ecostar) in