Time and date
CONSTRUCTION DIRECTORY
Address
Ripley House
Keycol Hill
Newington
Kent
ME9 8NE
England
About Dyebrick
The Dyebrick brick tinting kit is a color stain for brick and masonry. Our brick color stain dyes the surface, rather than coating it with a heavy film like most masonry paints. Our products are colourfast and will not alter the texture or the physical properties of your masonry.
Dyebrick offer
free worldwide delivery
on all products and a
lifetime guarantee!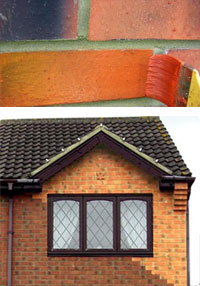 Dyebrick developed the first do-it-yourself brick stain kits in the world. We manufacture all our brick stain products at our factory in the United Kingdom. We do not make products for anyone else, so if it does not say Dyebrick on the pot then it is not Dyebrick
in
the pot!
Brick Stain Kit
The Dyebrick Brick Tinting Kit is an easy-to-use brick stain. It is available as a three-part mixing system designed for the DIY enthusiast to produce a natural, permanent colour stain to brick, mortar and a variety of masonry surfaces.
Ten standard colours available
Can be diluted to produce lighter shades
Makes up to 1.8 litres (60 fl/oz)
Comes with...

Instructions
Mixing Pot
Gloves
Test Application Brush
Pigment Powder Concetrate
Fixing Agent
Carrier Solution
Features
Image Dyebrick tints are a blend of finely ground, inorganic, micronized iron oxide pigments conforming to British Standard 1014. They are then modified to produce the finest brick colour stains in the world.
Non-toxic
Non-harmful
Odourless
Zero VOCs (Volatile Organic Compunds)
Absorbs into and becomes part of the masonry
Allows the masonry to breathe
Can be applied to

Brickwork
Concrete
Stone
Mortar
Render
Blocks
Concrete Roof Tiles
...and more!
Dyebrick Serves The Following Areas