Time and date
CONSTRUCTION DIRECTORY
Evans Piling

Contact Details
Address
Templeborough Works
Sheffield Road
Sheffield
South Yorkshire
S9 1RT
England UK
About Evans Piling
Welcome to Evans
Evans Piling is a leading stockholder strategically based in Sheffield near to junction 34 of the M1 motorway. We provide Steel Sheet Piling and related products to the civil and contracting industry and trading as Evans Steel and Tube we also provide Steel Tubes and Steel Sections. Both of these trading names are part of Evans 2000 Ltd.
In general our activities comprise sale of new and used Steel Sheet Piling, including buyback if required, hire of piles, sale of new, non prime and used Steel Tubes, Universal Bearing Piles and Steel Sections. Both Evans Piling and Evans Steel and Tubes purchase parcels of surplus, new and used materials.
Evans Piling is the sole UK distributor of WADIT® Pile Sealant and WALL PROFILE® connectors.
Evans Piling is recognised in the market place as a specialist of some 40 years standing with an excellent reputation for customer service. We are proud of the ISO 9001 accreditation that Evans Piling has achieved. Evans Steel and Tube also operate to the same quality system.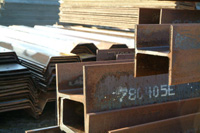 Products
Steel Sheet Piling
Evans Piling offer a comprehensive range of 'U' section Larssen Steel Sheet piling, 'Z' Steel Sheet Piling and Straight Web Steel Sheet Piling from our Sheffield distribution centre.
Wall Profiles
Wall Profiles® is a registered trademark for a range of corner and junction profiles produced in Europe for use in Steel Sheet Pile walls. Evans Piling is the exclusive distributor and stockholder of Wall Profile® products in the UK.
WADIT® Pile Sealant
Evans Piling is the sole UK distributor for WADIT® Pile Sealant, which is the registered trademark for a globally proven sheet pile interlock sealant. This Pile Sealant works in all extremes of weather and will work just as well in tropical or arctic conditions.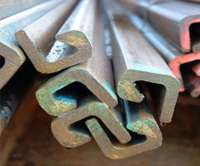 Steel Sections
Evans Steel and Tube offers a range of steel sections from stock, both new and used. This includes universal beams, universal columns and universal bearing piles, all in mild and high yield steel.
Steel Tubes
Evans Steel and Tubes is a well-established stockholder of steel tubes for the construction and general engineering industry. Our tubes are used for water and oil pipelines, pipe fabrications and for piling and other civil engineering purposes.
Discuss your requirements on 0114 243 1413.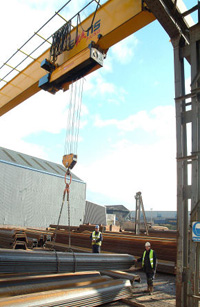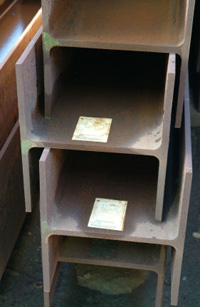 Evans Piling Serves The Following Areas