Time and date
CONSTRUCTION DIRECTORY
Bell & Webster Concrete

Contact Details
Address
Alma Park Road
Alma Park Industrial Estate
Grantham
NG31 9SE
England UK
About Bell & Webster Concrete
Bell & Webster are manufacturers of high quality precast concrete products. Established over 60 years ago, we are a design and manufacturing specialist of precast concrete solutions. Our solutions combine quality offsite manufacturing with construction to produce an award winning solution. Our product range includes: 

Retaining Walls
Rocket Walls
Terracing Units
Rooms
Ground Beams
Security Barriers
Retaining Walls:

Bell & Webster Retaining Walls are available in an extensive array of sizes, ranging from 1 metre to 4 metres in height. All Bell & Webster Retaining Walls are manufactured to the same quality standards and are all Eurocode 2 approved.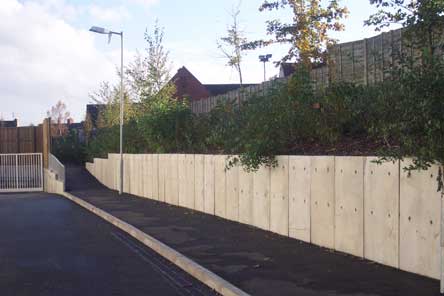 Bell & Webster Retaining Walls are designed to serve a variety of functions such as Aggregate Bay Walls, Aggregate Bay Walling, Anti-Ram Walling, Anti-Ram Walls, Anti-Terrorism Walling, Anti-Terrorism Walls, Bulk Storage Bay Walls, Bulk Storage Bay Walling, Bulk Storage Bunkers, Storage Bunkers, Recycling Bay Walls, Recycling Bay Walling, Car Park Walls, Car Park Walling, Security Walls, Security Walling, Fertilizer Storage Walls, Fertilizer Storage Walling, Grain Storage Walls, Grain Storage Walling, Salt Storage Walls, Salt Storage Walling, Waste Storage Walls, Waste Storage Walling, Coal Storage Walls, Coal Storage Walling, Soil Retaining Walls, Soil Retaining Walling, Earth Retaining Walls, Earth Retaining Walling, Earth Retention Walls, Earth Retention Walling, Watercourse Management Walls, Watercourse Management Walling, Temporary Walls, Temporary Retaining Walls, Temporary Walling, Muck Walls, Muck Walling, Slurry Walls, Slurry Walling, Silage Bay Walls, Silage Bay Walling, Bunded Fuel Compound Walls, Bunded Fuel Compound Walling, In Barn Partition Walls, In Barn Partition Walling, Waste Storage Walls & Waste Storage Walling. 

Rocket Walls:

Bell & Webster Rocket Wall Units are available in heights of 2.4 metres and 3.0 metres with nominal weights of 1.25 tonnes and 1.85 tonnes respectively. 

Bell & Webster Rocket Walls enable you to store a greater amount of material in the same floor space; the patented Rocket Wall unit can be rapidly installed to form storage bunkers or storage bays. The unique inverted 'Y' profile of the Rocket Wall means there is no 'toe' for your loading shovels to hit. Bell & Webster Rocket Walls are fast and easy to install, they have no protruding foot, they are easy to move for re-sitting, they are ideal for bunkers and division walls, they give you flexible layout options, and they can be integrated with our standard retaining walls.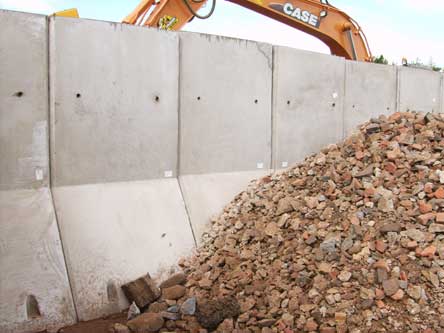 Bell & Webster Concrete Serves The Following Areas
Find Bell & Webster Concrete in