Time and date
CONSTRUCTION DIRECTORY
About j
Welcome to Halcyon Design and Manufacturing
INNOVATIVE BESPOKE DESIGN AND MANUFACTURING.
Founded on 40 years of experience, Halcyon Design and Manufacturing, HDM Ltd, is a diverse family owned business providing a wide variety of engineering based services to the building industry, retail, trade and wholesale markets.
We specialise in...
The fabrication division offers an extensive range of bespoke installations such as gates, railings, balconies, fire escapes and street furniture. Designed and manufactured to the customer's requirements.
We also provide steel framework for building structures to specification.
On hand is our enthusiastic young team headed by management with proven experience and know-how, who are used to working with architects on building contracts, large and small.
We specialise in the use of materials and processes with high definition value such as stainless steel and aluminium, brass, glass and hardwoods as well as traditional castings, galvanised steels and wrought iron.
Our contracts managers will take instructions and provide competitive tenders in a very short time using the latest CAD technology systems we have at our disposal.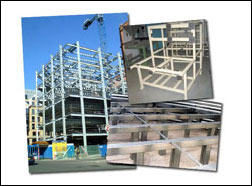 Steel frameworks are a necessity in modern construction. We specialise in fabricated structures both large and small, in heavy duty steel for buildings. We also design and manufacture lightweight sectional steel frameworks for the fixing and for the positioning of plant and machinery such as air conditioning units and service units, at ground or upper levels.
Fire Exits are essential for all commercial and industrial properties. Halcyon have been constructing and installing high quality fire escapes for many years.
Halcyon can offer you a range of modern and traditional style street furniture, designed to be hard wearing, comfortable and pleasing to the eye. For driveways and gardens we can provide ornamental lampposts, weather veins, railings etc, in the style of your choice.
We also make indoor Furniture such as dining tables and chairs.
j Serves The Following Areas