Time and date
CONSTRUCTION DIRECTORY
Coppercraft Limited

Contact Details
Address
1 Broomhill Terrace
Tallaght Industrial Estate
Dublin
24
Ireland
About Coppercraft Limited
Coppercraft Ltd
, part of Kingspan Renewables, is a market leader in high performance hot water storage solutions in both copper and 'Duplex' stainless steel in Ireland. The company offers extensive range of top quality open vented, unvented and thermal store solutions for domestic hot water as well as light commercial and industrial applications.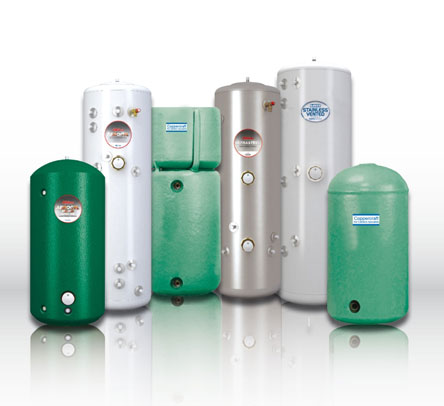 The range of products includes:
Albion Ultrasteel Unvented Cylinders
Albion Ultrasteel unvented cylinders are manufactured from Duplex stainless steel, featuring superior corrosion resistance. Albion Ultrasteel provide fast and safe mains pressure and offer high flow rates for powerful showers and fast filling baths. At 3 bar operation they meet all modern criteria for fast flow applications which makes them suitable for use in buildings with multiple bathrooms. They offer fast reheat times and minimal heat loss from the stored water. The range comprises Direct and Indirect models in a variety of sizes, as well as solar units to use with renewable energy sources.
Range Stainless Vented Cylinders
Range Stainless Vented cylinders are manufactured from Duplex Stainless steel featuring superior corrosion resistance and finished in a durable oven hardened white paint finish. They offer minimal heat loss and are available in Indirect and Direct options for use on an open vented system up to 4.0 bar working pressure.
Coppercraft Standard Copper Cylinders
Coppercraft manufacture copper cylinders for Domestic Hot Water storage in a variety of sizes and patterns. Primarily a business-to-business company, we supply our products to plumbers via builders merchants and plumbers merchants around the country.
Coppercraft copper cylinders are specially designed for use in open vented hot water systems. They are designed to heat up quickly and to retain their heat for long periods. They are available in Grade 3 and Grade 2 Copper as standard and Grade 1 on request and with various combinations of connections to suit individual requirements. The Coppercraft range also includes Combination units and Eco Solar indirect twin coil and triple coil cylinders which are designed for use with renewable energy sources, such as Kingspan Solar flat plate panels and Thermomax vacuum tube collectors.
Aerocyl Unvented Copper Cylinders For Heat Pump & Solar Input
Aerocyl is the new unvented copper hot water storage system from Kingspan Renewables, available from Coppercraft. Manufactured from high grade copper for excellent corrosion resistance and encased in a tough rustproof stove enamelled white casing for easy cleaning. The energy efficient and environmentally friendly foam insulation offers minimal heat loss and at 2.1 bar operation these units meet all modern criteria for fast flow applications.
Aerocyl Buffer Tanks
Aerocyl buffer tank is integrated into the space heating system when additional volume of hot water is required to provide smoother and uninterrupted operation of a heat pump and prevent the radiators or underfloor heating from cooling during the heat pump defrost cycle. They are available for both open vented and sealed systems in a range of capacities to suit different size heat pumps available in the Ireland.
Copperform also offers high performance renewable energy products including Kingspan Solar flat plate panels, Thermomax vacuum tubes and Aeromax Plus air source heat pumps. For further details please contact our sales office.
Coppercraft Limited Serves The Following Areas
Find Coppercraft Limited in