Time and date
CONSTRUCTION DIRECTORY
Roofglaze Ltd

Contact Details
Address
11 Howard Road
Eaton Socon
St Neots
PE19 8ET
England UK
About Roofglaze Ltd
From Flatglass rooflights to large area roof glazing systems, our products will help you to make the most of daylight.
Based in St Neots, Cambridgeshire, Roofglaze has a wealth of experience in the sale, design, manufacture, installation and maintenance of all the various forms of rooflights and skylights.
We work with main contractors, roofing contractors, architects, local authorities and domestic customers throughout the UK. We work in partnership with world-leading rooflight manufacturers – as well as offering our own high quality products manufactured at our Cambridgeshire factory.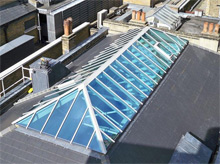 We offer all of our customers:
Friendly, personal service with high levels of expertise
Comprehensive site surveys if required
Advice and support on all aspects of specification
Scalable CAD drawings
Short lead times on standard and bespoke products
On-site installation by Roofglaze trained installers
Stringent quality management
Efficient, accountable project management
We are an ISO9001 accredited company, carrying Safecontractor, CHAS and Constructionline certification. We are members of NARM, the National Association of Rooflight Manufacturers. All our products are compliant with UK Regulations. We are an equal opportunities employer and we are committed to quality and sustainability.
Flatglass Rooflights
Combine the simplicity and convenience of modular rooflights, with the style, practicality and improved light transmission of glass.
Our Flatglass rooflights are available in a wide range of configurations, and provide a number of benefits to our clients:
Outstanding aesthetics – from both external and internal viewpoints
Roofglaze can supply Flatglass rooflights in virtually any shape, including; square, rectangular, circular, elliptical, triangular, hexagonal, octagonal and irregular shapes
Single and multi-pane double or triple glazed units can be contained within a single Flatglass frame to cater for a wide range of sizes
Standard sizes in stock for short lead times
Fully compliant with UK Building Regulations
Non-fragile, CWCT TN 66 & 67 (class 2) ACR[M]001:2011 (class B) compliant construction – options available where required, please refer to our Technical Information for further details
Wide range of glazing and ventilation options
Warm edge spacer for improved thermal performance – total product U-values as low as 1.2W/m2k (triple glazed)
Specifications are available on-line from RIBA NBS Plus
BIM Objects are now available to download from the NBS National BIM Library
Modular Rooflights
Roofglaze Modular Rooflights introduce natural light into buildings of all types, and can also provide natural ventilation, as well as solar control and roof access.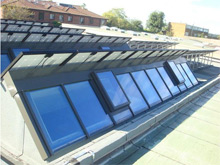 Some of the key features of our Modular Rooflights are as follows:
Manufactured in the UK and the Netherlands, to comply with European standards and UK Building Regulations
Double, triple and quadruple skin polycarbonate domes and pyramid options available
Top quality UV protected polycarbonate or glass glazing
Full technical back up and nationwide survey service
48 hour delivery on standard sizes
20 year warranty on all our polycarbonate rooflights
Large Area Rooflights
Roofglaze large area glass and polycarbonate rooflights offer cost-effective solutions for all kinds of buildings, with options for natural ventilation and solar control.
Designed and manufactured in the UK and the Netherlands, to comply with European standards and UK Building Regulations
U-values for all complete units are as low as 0.91W/m2k, exceeding the current Part L requirements
Top quality UV protected solid or multi-wall polycarbonate or glass glazing
Range includes state-of-the-art Nanogel®-filled glazing option
Thermally broken aluminium or steel glazing bar systems
Patent, panellised and structural glazing
Full technical backup and nationwide survey service
Comprehensive warranties on all products
Sunpipes
Pipe natural daylight through all roof constructions. Roofglaze Sunpipes provide a simple and practical way to introduce natural daylight into areas where light from vertical windows cannot reach – and where conventional rooflights may not be suitable due to roof construction.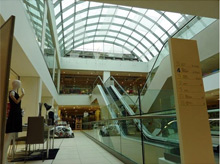 Gallery
Click to close
Videos
Products & Services
Roofglaze's Sunpipes
Dome rooflights
glazing façade systems
Vertical Glazing
Glazed Canopies & Walkways
Glazed Canopies
Roof Lantern
Lanterns
Pyramids & Polygons
Roofglaze combine
Pyramid rooflights
hinged rooflight
roof access
Sliding Flatglass
Sliding Flatglass rooflights
electric chain actuators
Sliding Flatglass
Multi-section Flatglass
Barrel Vault rooflights
Barrel Vaults
Electric Access Hatches
thermal performance
natural ventilation
AOV Smoke Vents
Access Flatglass
Bespoke Flatglass rooflights
Bespoke Flatglass
Ridgelights
Northlights manufacture
manufacture Northlights
Northlights
Monopitch rooflights
Monopitches
aluminium extrusions
glazing bars
bespoke skylight systems
bespoke rooflight solutions
polycarbonate skylights
Bespoke Glazing Systems
roof terraces
Walk on Flatglass
Walk-on Flatglass
Flatglass Rooflights
Hinged Flatglass
Fixed Flatglass
Twitter Feed

Facebook Feed
Roofglaze Ltd Serves The Following Areas