Time and date
CONSTRUCTION DIRECTORY
MIM NI Ltd

Contact Details
Contact
Caroline McLaughlin
Address
6 Carrakeel Industrial Park
Maydown
L/Derry
County L/derry
BT47 6SZ
Northern Ireland
About MIM NI Ltd
With over 17 years experience, MIM NI's team of 60 mechanical fitters, riggers, instrument technicians and electricians are more than capable of dealing with the requirements of any project.
Machinery Installation & Relocation
MIM can handle anything from a single machine move to the installation of complete production lines. Our company has the necessary equipment and skilled permanent workforce to carry out these tasks safely and to the highest standards.
Our engineering skills have provided clients with effective solutions for a wide range of engineering requirements including the following;
New equipment installations
Single machine moves
Internal relocations
Machinery removal
Equipment modifications
Clean room protocol experience
Related logistics services (including export packing and shipping)
MIM have a wide range of machinery installation experience from fibres/polymers, microelectronics, pharmaceutical and other high technology sectors, dealing with high-value, delicate equipment in ultra clean environments. With these skills we are equally capable of working with equipment in many other industries.
Maintenance
Machine Alignment
Optical alignment
Laser alignment
Fabrication
MIM provide a specialist metal fabrication service with expertise in sectional fabrications and sheetmetal work in Mild Steel, Aluminum and Stainless Steel. Our company can manufacture items ranging from small brackets to complex structures.
The company employ a highly skilled workforce including certified welders and uses a range of modern machinery.
MIM can design, manufacture and produce bespoke fabrications to customers specifications and work with the client to establish the exact requirement.
Lifting Engineers
We offer a service which includes 24 hour emergency break-down assistance, Factories Act Examination, design and fabrication of runway beams, jib arms, crane gantries and an on site repair and maintenance service.
Our engineers are trained to the highest LEEA (Lifting Equipment Engineers Association) standards and have many years experience in the lifting equipment industry.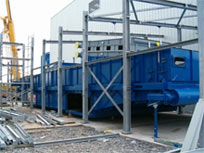 Machinery Decomissioning
MIM are specialists in complete factory removals of plant, machinery, dismantling, erection and electrical installations. Including decommissioning, dismantlement and relocation of Chemical plant, Textile facilities, Brewing facilities and Power & Generating facilities.
This service using slinging and rigging services by trained and qualified operatives can also include match marking and logistics to customer's final location where our technicians can also undertake the installation of the equipment.
Health and Safety
MIM-NI is totally committed to a safe and injury free working environment. We believe that all incidents and injuries can be prevented if proper care and attention is given to Health and safety issues.
MIM recently received accreditation from SAFEcontractor, a programme which recognises very high standards of health and safety practice amongst UK contractors. John Kinge, Head of Risk at SAFEcontractor said, "Major organisations can no longer run the risk of employing contractors who are not able to prove that they have sound health and safety policies".
Under the SAFEcontractor system, businesses undergo a vetting process, which examines health and safety procedures and their track record for safe practive.
Our safety statistics are available on request.
MIM NI Ltd Serves The Following Areas