Time and date
CONSTRUCTION DIRECTORY
Arcova (UK) Ltd

Contact Details
Address
Unit 1 Tuxford Business Park
Ashvale Road
Tuxford
Nottinghamshire
NG22 0NH
About Arcova (UK) Ltd
Arcova™ (UK) Ltd Steel Access Covers or Manhole Covers and Frames. Versatile, cost effective and tailored to your scheme.
Arcova produces a range of access products allowing designers and contractors to
custom-build service accesses in an almost limitless combination of type, size, material and loading.
Our technical office offers assistance with the selection and design of access or manhole covers for your specific application. We can rapidly produce designs and drawings of any access cover and frame in our range that will suit your specific needs.
We have authorised overseas agents who will be happy to advise you on our products.
Arcova (UK) Ltd is an ISO 9001 registered company.
Automated Fire Rated Access Cover and Frame
Arcova  design, manufacture and supply a full range of bespoke fabricated access covers in a range of materials namely galvanised mild steel, stainless steel or aluminium, with a host of specific options including hinged with manual or assist lift incorporating various sealing and locking.
The access cover shown below is required to suit a structural opening of 2500 x 3500mm and is situated in a fire compartment floor approx 8m above ground level – the opening is used for access to the first floor of the biomass energy centre on the Olympic Park. The cover requires 90 minute fire integrity and remotely opened on a daily basis. 
As an industrial application the covers were manufactured from galvanised mild steel based on cost and aesthetics. Different finishes are available as site conditions dictate eg. Powder coating in standard RAL colours.
THE EXTENDED ALUMATIC™ RANGE OF ALUMINIUM ACCESS COVERS:
Alumatic™ Recessed


Alumatic™ Solid top

Alumatic™ Parquet


Alumatic™ Vinyl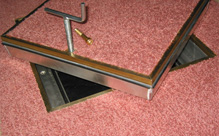 The most cost effective, lightweight architectural covers for applications that require performance and a durable aesthetic finish.  Perfect for use in residential, retail, commercial and catering applications. 
Aluminium Alloy 6063 T6 for lightness and surface finish 
Suitable for up to 1.5 tonne wheel loads 
For single units, duct runs and beamed multiples 
Brass, aluminium or bright stainless show edges 
Locked and triple neoprene sealed as standard  
The extended Alumatic™ range of covers includes:-  
Alumatic™ Lite Recessed - Up to 15mm floor finishes - 1.5T SMWL
Alumatic™ Lite Vinyl  - Up to 3mm vinyl flooring - 7.5kN/m²
At ARCOVA™ we are providing unrivalled quality and service within fabricated steel and aluminium access cover markets worldwide.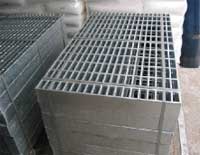 Arcova (UK) Ltd Serves The Following Areas